WEEKEND MUSIC PREVIEW: Fogerty holds up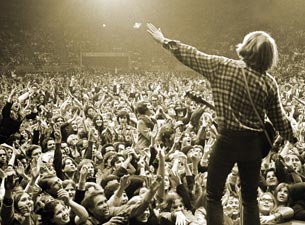 A pair of seminal metal bands are in Edmonton this weekend, with death metal act Obituary playing the Pawn Shop on Friday night, followed the next evening by thrash metal artists Anthrax at EEC. If metal isn't your scene of choice, there's classic rock, indie pop, indie rock and even folk to be heard this weekend.
Friday
Obituary – This Florida act was one of the early pioneers of death metal; the band has eight albums under their belt, and an impending ninth – as yet untitled – due out later this year. Broken Hope and Decrepit Birth, along with Jungle Rot and Encrust, are also on the bill. Pawn Shop, 6 pm, $32.
Library Voices – This indie pop act from Regina is a frequent visitor to Edmonton, but it's no surprise given its ardent fan base in the city. Enthusiastically energetic to the point of near-chaos, the band's live show will leave you breathless after every song. Maybe bring some oxygen. Canyon Rose Outfit also performs. Starlite Room, 8 pm, $20.75.
Saturday
Screaming Females  – These New Jersey punk rockers play an unusually early afternoon show over at Wunderbar. The band features scorching guitars and siren-like vocals from Marissa Paternoster; it'll be curious to see how that plays out with sunlight still streaming in from outside. Travis Bretzer and Book Of Caverns are also on the bill. 4 pm, $12.
Anthrax – Local metal fans will be in their glory this weekend, as this metal band headlines an event over at Edmonton Event Centre. Like Obituary with the death metal scene, this New York band was one of the bands most associated with the burgeoning thrash metal sound of the 1980's. Original lead vocalist Joey Belladonna rejoined the band in 2010 after a couple of breaks through the years; the only member that has been with the act since it started is Scott Ian on rhythm guitars and backing vocals. Testament and Death Angel will also perform. 7 pm, $39.50. Buy here.
Chasing Jones/One Way State – These two local bands are receiving quite a bit of attention over the last quarter, and deservedly so. The first, founded by brothers Nick and Adam Di Lullo, is a modern pop-rock band grounded in the sounds of the 1990's; the second is a heavier, indie rock band whose latest EP "The Right Time" has been receiving exceptionally favorable reviews throughout the Edmonton mediasphere. Pawn Shop, 7 pm, no cover.
Joel Plaskett – This award-winning Nova Scotia rock musician is playing a special acoustic set with Mo Kenney at the Arden Theatre in St. Albert. 7:30, $35.
John Fogerty (above) – This American singer-songwriter first found fame as the frontman for Creedence Cleerwater Revival (who were once called the Golliwogs, believe it or not), where Fogerty was the lead vocalist, lead guitarist and primary songwriter. Many of the band's tracks, including "Proud Mary," "Born On the Bayou", and "Bad Moon Rising" can still be heard on the radio. His solo career has also been lengthy, with its peak in 1985 and the album "Centerfield," which hit No. 1 in the United States, and No. 2 here in Canada, and spawned the hits "The Old Man Down the Road" and "Rock and Roll Girls." Rexall Place, 8 pm, $69.50. Buy tickets here.