EIFF REVIEW: Golf meets orphan movie genre in Becoming Redwood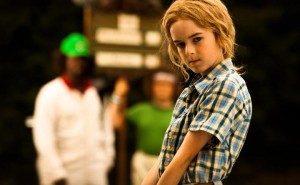 For instant drama, you can hardly do better than an orphaned child-cruel stepparent scenario. Ask Disney.
Becoming Redwood – the gala opening film at the Edmonton International Film Festival – offers more insight than the usual stories of this sort, into parenthood, into how kids cope with parents who split up, and into the nature of imagination, propelled by characters who have a lot more depth than they seem at first. There's no neat ending here, no completely evil stepfather getting his just desserts. Like real life, this heartwarming movie is more complicated than it looks. It is not Disney.
Golf, however, is a simple game – and that's what ties it all together.
Young Vancouver actor Ryan Grantham is terrific as the 11-year-old titular character, the quirky Redwood Forest Hanson, who plays an ongoing fantasy golf match with Jack Nicklaus as a way of dealing with a litany of familial dysfunction. The secrets of golf can be applied to real life. It teaches calm, self-control, concentration, along with the real knowledge that your game can come apart at any moment and you'll end up in the sandtrap of a broken home on the 17th fairway of life. You just have to take the triple bogey and move on.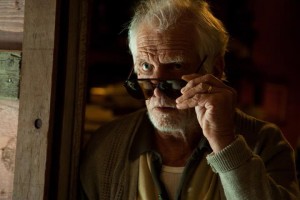 Written and directed by Jesse James Miller, the story starts as Redwood's hippie parents are fleeing with their toddler to Canada in 1968. Ethan, the dad (Chad Willett), is a draft dodger and pot dealer. It turns out that Jade, the mom (Jennifer Copping) had already started another family with a redneck from California (Derek Hamilton), and she makes a hard choice at the border. Ten years later, when Ethan inevitably gets caught and jailed, Redwood goes back to live with his mom on a rundown farm with a stepfather, stepbrothers and step-grandfather (Scott Hylands, above) he never knew he had. Arnold, the put-upon, unemployed father, is determined to keep his authority over his family and make his sons into real men. By force, if necessary.
It's not hard to see where this is going. It is literally a series of unfortunate events.
We've seen this scenario countless times in various British melodramas and Disney animated features, and we instantly feel for these poor orphans left to fend for themselves in a desperate situation, and deal with a variety of eccentric, possibly dangerous characters and no one knows when mummy is coming home. It's not hard to care about these waifs. From the very start, you especially root for Redwood, much in the same way you'd care what happens to Oliver Twist. You want him to win his metaphysical golf game. You may even hope the other not-completely unlikable characters will grow, though they seem to be much more messed up than Redwood. Stepdad and the older brother are bullies, the younger brother is a nervous wreck, mom is a doormat, grandpa is a lunatic and his real dad is a loser. Or so it seems when we first meet them.
Golf in a cow pasture sounds like a swell way to get away from it all – especially when it's the most important match in history with the greatest American golf hero and the winner gets a magical green jacket that can alter reality. Only you can't, of course. That's the thing about a child's imagination, no matter outlandish the fantasy: He knows it isn't real.
Despite the familiarity of this story, there are plenty of twists and turns and surprising moral lessons to be found Becoming Redwood. Like the "To Sir With Love" schoolteacher movies – which are all exactly the same – you can't go wrong with a good orphan flick.
Becoming Redwood screens Friday, Sept. 28 at 7 p.m. at the Empire City Centre 9 Cinemas. Actors, director and producers will be in attendance. Admission to the gala EIFF event is $25.
Becoming Redwood from Becoming Redwood on Vimeo.