EIFF REVIEW: Happy Family shatters fourth wall in brilliant Italian comedy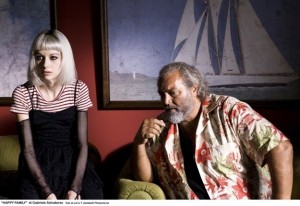 Happy Family breaks the fourth wall constantly, with characters talking to the screen. It's done in the same lighthearted vein as in the classic Ferris Bueller's Day Off, but is wonderfully off-the-wall and part of why this Italian film is so funny.
Well, that and the writing, which is brilliant: touching, thoughtful, poignant, almost never sad. But the constant transference between a film and a film about a man making a film – believe me, that'll make sense when you watch it – is wonderfully inventive. It should get tiresome, it could be cheesy; but the broadly clever humor, the fully developed characters and great performances stop that from happening.
There's another nice facet to this 2010 comedy that opens Friday at the Edmonton International Film Festival (EIFF): it's utter proof that subtitles do not reduce the quality of good writing. After a few minutes, it's so consistently entertaining that you forget you're reading dialogue as well as watching performance, and it blends together. It's also unapologetically romantic, its loves writ large, whether it's the endless homage to Wes Anderson, the Coen Brothers, Fellini and Mastroianni, or the romantic subplot itself, of which I will spoil nothing here, lest I be damned.
The main character Ezio (Fabio de Luigi) wants to write an art film, he tells us in the opening moments. But quickly, it's obvious he likes scenes that play for laughs. His characters, who have all also broken the fourth wall, first introduce themselves and then reappear a few minutes later to start badgering him for better parts and more screen time.
He starts getting to know his characters and is suddenly insinuated into their lives, and their melodramas. It helps that the film is beautifully shot, with strangely interspersed elements of music by Simon and Garfunkel, and with 20 minutes or so, it has quite smoothly transformed into a character-driven comedy.
But wait … the mechanism has another use: to give the hapless screenwriter control over the script even as his character is faced with a deeply personal choice within the script itself. Now, he can use the fourth wall to step out of his own film, and away from the emotional fatigue of having to give all of his wonderful, oddball characters an ending.
Will they let him …or will they, contained in his consciousness and his apartment, start selling his stuff?
It's utterly original, and there's even some stirring cinematography and score in there, too. Gabriele Salvatores delivers one of the most eminently re-watchable, clever and strangely affecting comedies in years.
More EIFF stories:
For lack of celebrities, films are the real stars of EIFF
Golf meets orphan movie genre in Becoming Redwood
Trevor Anderson, the Filmmaker That Got Away
Oxygen for the Ears celebrates jazz city that Ken Burns missed