EIFF REVIEW: Director's cut shows good film despite toltalitarian meddling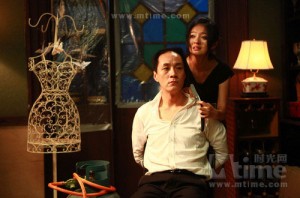 Gil Kofman is some sort of genius. The director of The Memory Thief makes two appearances at the Edmonton International Film Festival (EIFF), first as the protagonist in a documentary about making a film in China (Unmade in China); the second, with a showing of his cut of that film, Case Sensitive.
Without giving too much away, this version of Case Sensitive has never been officially seen in China, but is a massively popular bootleg DVD, complete with English subtitles. The film contains elements of classic paranoid obsession flicks like Taxi Driver and Misery, The Conversation and Rear Window, brought into the contemporary world of video blogging – and its many deceits.
The comparisons aren't entirely egalitarian; the film suffers from a few problems including one change in pace that is jarringly abrupt. You'll also believe, at the start of the film, that the performances are jarringly uneven. But that's part of the story, so keep watching. It gets deeper and deeper, and more interesting as it progresses, and you really will be guessing to figure out where it all leads. It's actually a surprisingly good film.
If you watch the documentary Unmade in China – playing first with Case Sensitive in an EIFF double header on Monday, Oct. 1- you'll learn the genesis of this effort. It turns Case Sensitive from a decent obsession suspense flick into a work of towering achievement. Years ago, director John Huston exposed Humphrey Bogart, Kate Hepburn and the rest of the cast and crew of "The African Queen" to the harsh rigors of deepest, darkest Africa to shoot, and nearly killed the lot of them, apparently. Compared to working with the communist Chinese on project with bureaucratic control, The African Queen was an episode of Candid Camera.
As such, some of the performance Kofman elicits from his makeshift cast – several prominent crew members have MAJOR roles, and manage to give nuanced performances – is something to behold. His leads, Yuan Zheng Feng and Annie Ann, are both solid throughout.
In Unmade, we only get to see a few seconds of the official Chinese cut, but each of those seconds is a moment of incandescent, blinding incompetence, the kind of fratboy "hey, anyone with a camera can do this" junk you find on ever other personal page online.
That the Chinese government turned down or rejected this unofficial director's cut – and apparently stiffed Kofman on his last paycheque – only serves to make his revenge at producing a good movie nonetheless (and being able to market it globally … sort of) all the sweeter.
See this film; you'll be entertained and you'll help contribute to pushing totalitarianism a little closer towards the dustbin of history.
Complete EIFF schedule here.
More EIFF 2012 stories:
Montage makes all the difference in gringo-out-of-water films
For lack of celebrities, films are the real stars of EIFF
Golf meets orphan movie genre in Becoming Redwood
Trevor Anderson, the Filmmaker That Got Away
Oxygen for the Ears celebrates jazz city that Ken Burns missed
Happy Family shatters fourth wall in brilliant Italian comedy