EIFF REVIEW: Darwin not the end of the Earth, but you can see it from there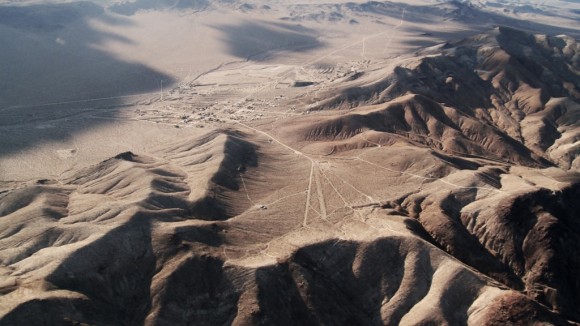 At the end of a bleak road in Death Valley – itself one of the most inhospitable places on Earth – Monty Brannigan lives life as a gloriously unique individual. A Buddhist with a history of violence, an artistic savant who creates sculptures reminiscent of Henry Moore, a widower whose wife was shot in a bar dispute, and a miner, Monty Brannigan's life is diverse. And it is, in many respects, almost pitifully sad. His kids are estranged. Some in the community don't talk to him.
But in the desert town of Darwin? Here, he's about as average as the day is blindingly hot. Darwin, also the name of director Nick Brandestini's frank and fascinating documentary – screening Tuesday at the Edmonton International Film Festival (EIFF) – was once a mining town of 3,500 and always a dangerous, hell-bent-for-leather sort of place. Now just 35 people live here, each as damaged and retreating from the rest of society as the next.
There's Hank Jones, a former career criminal who married a pagan (Connie Jones, below) when he got out of Folsom Prison and moved to Darwin to get away from his past.  And there's Mike Laemmle, who rejected his wealthy family's direction and became Darwin's one-man water protection division, and chairman of its water board. There's Rick, a paranoid survivalist with enough arms on his wall to start a war – a common theme in Darwin. And those are just a handful you'll meet.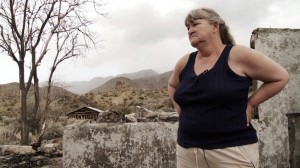 What they all have in common is that they've lost their trust in the rest of society. That's about the only reason to move to Darwin, after all. Some have murdered relatives, or have been crime victims themselves. Others alienated family. Many seem to be suffering from addictions, self-medicating against the ravages of anxiety and depression.
And yet they love their town. They find a sense of community – although these all-too-real characters are so damaged and distrusting that the town is a boiling, seething mass of tension half the time.
Brandestini has produced a truly great documentary, anchored by stark static desert town visuals and Taylor Serger's taut script, which allows the residents to do the talking. As is noted early in the film, Darwin started as a tough town, "vile, vibrant, drunken and dangerous," with such a bad rep that even the police wouldn't visit. Now it's the end of the line. But it's still their home, and the people of Darwin breathe a fascinating life into this film that makes it must-watch material.
Its score is so perfectly haunting, foreboding, tense and ultimately optimistic that score composer Michael Brook gets third billing, and fully deserves the accolade. It adds up to a masterpiece reminiscent of great documentaries like Gates of Heaven and Hoop Dreams, and only suffers in comparison to such films due to its relatively tight focus on the present day, which is arguably not such a drawback.
More EIFF 2012 stories:
Unmade in China better than the film they ruined
Montage makes all the difference in gringo-out-of-water films
For lack of celebrities, films are the real stars of EIFF
Golf meets orphan movie genre in Becoming Redwood
Trevor Anderson, the Filmmaker That Got Away
Oxygen for the Ears celebrates jazz city that Ken Burns missed
Happy Family shatters fourth wall in brilliant Italian comedy