WIN! Family pass to Edmonton Expo 2012 with Adam West and Burt Ward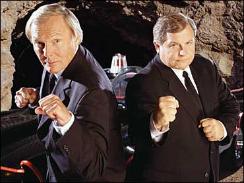 Holy pop culture icons, Batman! The ORIGINAL Batman and Robin – Adam West and Burt Ward, for all you whippersnappers out there – are coming to town for Edmonton's comic convention, Edmonton Expo 2012, happening Oct. 20-21 at (you guessed it), the Edmonton Expo Centre.
We have a family pass to give away, good for two adults and two kids 10 and under. You will also get "priority" seating at the Batman "Kapow!" panel on Sunday, Oct. 21 at 1 p.m., hosted by Mr. West and Mr. Ward themselves. All you have to do is answer the following skill-testing question (or Google it, if you must cheat): In Family Guy, what is the name of the character played by Adam West? E-mail your name and answer right here. The winner will be drawn from all correct entries received by Monday, Oct. 15.
The Edmonton Expo will also feature stars like Billy Dee Williams, who played Lando Calrissian in Star Wars, a parody of himself on Robot Chicken and even a role in Tim Burton's Batman – which brings meaning behind the event's tagline "Batman to Star Wars."  Brought to you by the folks who produced the Calgary Expo – which recently brought in all the cast members of Star Trek: The Next Generation – along with the Edmonton Collectible Toy & Comic Show, the event promises to "unite fans of film, TV, comics, gaming, anime, horror and sci-fi."
Tickets to the event are on sale here.