WAR ON GRAFFITI: Tagger's distinctive style leads to charges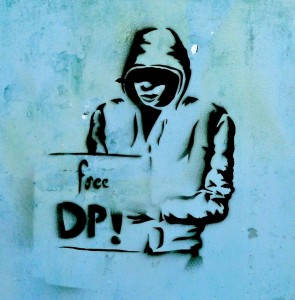 Edmonton police used information seized during a June raid at the Paint Spot art gallery to get a warrant to search a graffiti suspect's home.
According to the public court document used to get the warrant submitted by Const. Ryan Katchur, who identifies himself as the Northeast division graffiti resource officer, investigators appear to have been unaware of the identity of the artist known as "DP" or "Daft Punk," whose work was on display at the gallery, until they examined sales records in the store that were also seized.
"I was advised that items with a red dot sticker beside them were marked as sold, which means that a receipt would be generated and records kept to pay DP," Katchur writes about a visit he made to the gallery shortly before police returned with their warrant. A contract located in The Paint Spot during the search yielded a suspect's name.
The officer also states that in early July, after the gallery raid, he received "confidential source information" about the identity of DP. The officer's application to search the suspect's home states that he wished to search for graffiti tools, as well as graffiti images. It was approved by Max King, Justice of the Peace, on Aug. 13 and executed the following day.
Items that were seized include art supplies such as stencils, a watercolour kit, and sketch books, as well as books about graffiti and a magazine about contemporary underground art, along with spray paint tips, spray cans and a Playstation 3, according to the report. Later that afternoon at the Scona police station, police also confiscated an iPhone from the suspect.
This case offers an interesting glimpse at how Edmonton police have been investigating graffiti.
Katchur states that since May 13, 2010, he has conducted six search warrants for graffiti mischief and was successful in laying charges in those cases. He says he has been learning about the graffiti subculture, noting that he regularly monitors the Internet. YouTube, Facebook, www.bombingscience.com, Flickr, and www.12ozprophet.com are popular places that he cites for graffiti vandals to post pictures of their own and others' work.
"I queried Daft Punk and DP on the world wide web and found numerous sites devoted to a music group bearing the same name," Katchur writes. He says he found out about DP's show at The Paint Spot on Facebook.
Graffiti artists often use sketchbooks to practice their tags, he goes on, and that the books are almost always on their person or in their rooms. Graffiti vandals begin to "assume their tagger identity" and that their tag names become interchangeable with their real names. For that reason, Katchur says that it is extremely unusual for that person to use another person's tag.
"Often the tags produced in these books bear a strong resemblance to the graffiti that is committed in the community. Sometimes graffiti vandals doing a complex piece will use the sketchbook as a guide," Katchur says, and will also frequently practice graffiti in their residence and have it on personal belongings, such as school bags or skateboards.
Katchur notes that he had already been aware of a prolific graffiti vandal called DP who "specialized in causing graffiti damage by means of spray paint and stencils in the Whyte Avenue area between the Mill Creek Ravine and 106 Street."
The case has drawn criticism from some artists. The Paint Spot's owner, Kim Fjordbotten, said the art seizure could make it difficult to organize legal graffiti zones in the city because graffiti artists who go legitimate could potentially then be linked to their other, illegal work. Fjordbotten says she tried to keep her dealings with DP as anonymous as possible, but that some records were necessary for tax purposes.
Katchur states in his submission for the search warrant that The Paint Spot gallery was not a suspect, nor was it in jeopardy of criminal charges.
Kristy Trinier of the Edmonton Arts Council said after the gallery raid that the council encourages artists to use the city's free wall, which she said requires no fee or registration. The Arts Council helps facilitate commissions for street artists, too, but Trinier said she wasn't sure what effect the seizure at The Paint Spot would have on that program.
Jamie Robert Law, 31, is charged with 35 counts of mischief under $5,000. Law has yet to enter a plea. His next court date is Oct. 10.
READ MORE: Secrets of the anti-graffiti enforcers