Heavy metal poet bridges modern with medieval in new book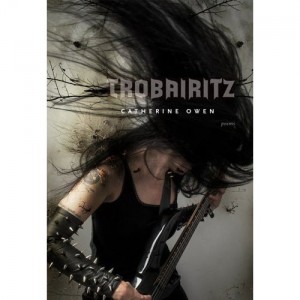 Death metal and poetry don't usually hang out together – except in the personage of former Edmontonian Catherine Owen. She's not only an award-winning Canadian poet, well respected by many – which is an accomplishment in the fractured world of Canadian poetry – she's also a heavy metal goddess who's played bass in bands such as InHuman and Helgrind.
Owen recently made a stop in Edmonton to read from her ninth book, Trobairitz.
Q: What is Trobairitz?
A: It's term used to describe 12th Century female troubadours … I've been a fan and then a creator of metal music for quite a long time, but didn't know how to write poems about this passion, a joy I can also often feel ambivalent about. When I discovered the world of trobairitzes, I instantly saw a connection to that period in medieval history and the contemporary metal world. It's complex, but basically it involves creating art in opposition to the status quo, questioning gender and class and religion and being, in various ways, oppressed by society. As a woman in the metal scene, I often struggled with how I fit in or didn't, with whether I was innovating or merely replicating, how I would survive the at-times virulent sexism. So Trobairitz is an exploration of those themes.
Q: Who came up with the cover?
A: That was my idea and I'm fortunate enough to work with a superb photographer, Paul Saturley. I was hoping to capture the energy of live performance while creating a stylized image. We shot this photo in his studio in Victoria while listening to Iron Maiden and Katatonia. I hair-whirled for over an hour, with and without the bass.
Q: Did Trobairitz help with the grieving and healing following the death of Chris? (Owen's partner Chris Matzigkeit passed away in 2010.)
A: Perhaps. In some ways it's re-opened wounds, reminded me of the life that Chris and I led for eight years. He gave me that path in a sense. And then it took me over. Metal was nearly everything to him. And for a while after he died, I could barely listen to the genre. It's been two and a half years now. I'm better able to read from the book, I hope, without constantly being wracked by difficult memories. And there's humour in it too. So that helps.
Q: Any comments on Canadian poetry?
A: There is an immense amount of brilliance in this country, poetically speaking, and a slew of books are published every year. While this is wonderful, I am still concerned about who is reading and writing these books, how they are getting distributed, who's reviewing them, what happens to the books if they don't win any awards. I think a lot of self-congratulating is going on without much examination of what this book publishing system is really accomplishing.
Q: What about your place in that?
A: I produce a lot more books than the "average" Canadian poet, which is no laudable quality in this country. I do so because that is what I've dedicated my life to. It's just what I live for.
Q: What about music? How's that going?
A: A much more challenging path for me. Firstly, I've been a poet a lot longer than a committed musician, though I've played instruments since I was three. Thus I have much more experience keeping it all going despite roadblocks in my personal life. Secondly, Chris and I were a collaborative team in the metal world and with his death I've had a hard time starting again. I have continued to write bass lines and lyrics for my currently solo project Medea and have attempted to work with a range of guitarists who haven't quite clicked for a variety of reasons. I've also been singing "poem-songs" with a mini-band called The Lyrical Outlaws. But that appears to be on hold now too. When I return from tour it looks like I'm going to play bass in an all-woman AC/DC cover band for a kind of a living. More than this, to play live again after a three year hiatus. And meanwhile, to keep making a life, always, through poetry, music, art.