REVIEW: Bob Dylan and Mark Knopfler turn Rexall into great night at the folk fest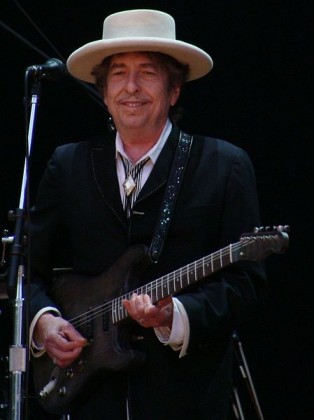 One of the problems with seeing living legends in concert is that they never really live up to the title.
They're usually past their prime, don't have the chops that they used to have, so they hire a kickass back-up band to cover for them. Or they rely on their artistic credentials to put on a sloppy show. It's kind of sad. You wish that they would just call it quits and stay home.
None of this applies to Bob Dylan.
At Rexall Place on Tuesday for his Never-Ending Tour, he lived up to his legendary image, impressing not just longtime fans but many in the crowd who were there only to be able to say they saw Dylan at least once in their lives.
The voice of the boomer generation was a bit gravelly, but it did not disappoint. Dressed like a gentleman gunslinger from the Old West – think Richard Harris in Unforgiven with a white hat – Dylan ran through a varied set, relying on many old tunes, but changing the arrangements to add spice to those old reliable recipes. The man himself was typically low key, spending half of the concert stuck behind his keyboard. Even the lighting was low-key, no follow spots, no vari-lights changing colours and shapes, no strobes. A series of stand-alone lamps surrounding the stage created an intimate setting in the midst of a 15,000 seat hockey arena.
Even so, Dylan seemed quite animated, bouncing up and down on his piano through several songs, hitting his solos with a tightness that hasn't been seen in years. And when he stepped out into centre stage, he exuded a presence, a powerful charisma that drew the attention of everyone in the arena. He even cast a few poses, nothing fancy, mind you, 'cause this is Bob Dylan. But when he pulled out his harmonica and started to blow, there was no doubt that this was greatness personified.
Dylan did have a bit of help from the warm-up act. Former Dire Straits frontman Mark Knopfler and his crack seven-piece took to the stage first, probably the first time that almost the entire crowd were in their seats to catch an opening act. Knopfler was almost legendary himself, cool, collected, one of the greatest guitarists in living memory, relying almost entirely from his post Dire Straits catalogue, save one, to set the stage for the headliner. Knopfler was so impressive there were worries that this would be one of those moments when the opener overshadowed the headliner.
But that didn't happen.
Bob Dylan was excellent, confirming to his diehard fans that the legend still lives, and suitably impressing people who weren't expecting much.
In a sense it was just like a night at the folk fest: A night when a great mainstage band is followed by an even greater mainstage act – and everyone goes home happy, despite the rain.