Adam West forced to cancel Edmonton Expo appearance, Six Million Dollar Man to step in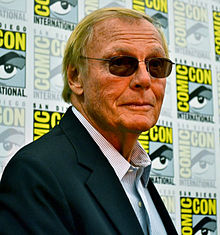 Bad news, citizens: Adam West, the real Batman, has injured his back and cannot attend the Edmonton Comic and Entertainment Expo this weekend.
Mayor Adam West – as he is also known to many fans of Family Guy – sent a personal message to his fans in Edmonton:
"Adam West here…a crazy thing happened a few months ago in the bat cave: Bane broke my back and cracked three of my vertebra. Unfortunately, last week while I was in New York my back was re-injured. It is with a heavy heart that I'm making my first cancelation in 47 years of appearing at conventions … I'm quite jealous of my good friend Burt [Ward], who will now be joined by the Feline Fatale Julie Newmar, Supernatural's Misha Collins, and the 6 million dollar man himself, Lee Majors."
Other guests at the event taking place Saturday and Sunday at the Edmonton Expo Centre will include Billy Dee Williams, Nichelle Nichols (Lieutenant Uhura in Star Trek), members of the band GWAR, Dave Lawrence, star of FUBAR, and many more.
Get well soon, Mayor Adam West.