Play me a memory: CBC's Bosendorfer sold to the ESO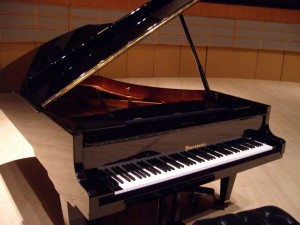 Some have called it Edmonton's most-recorded piano, and as CBC Edmonton's house keyboard for close to 30 years, the claim may have some merit. But when the broadcaster announced earlier this year that it was axing its local recording unit, it realized there wasn't much point in keeping its magnificent seven-foot Bosendorfer that had been with the station since the early 1980s.
Luckily, just across Churchill Square from CBC, the Edmonton Symphony Orchestra was in the market for just such a piano.
The Bosendorfer is particularly sweet. Halfway between a baby-grand and a full-grand, it has four extra keys at the low end which give it notes below the low A. (The extra white keys are coloured black to prevent pianists who are used to a regular 88-key piano from getting confused.)
Tommy Banks has performed jazz on it and makes playing it look easy. Lucky Peterson, who recorded his first blues record at age 5, performed on it during an appearance on CBC's Saturday Night Blues.
"He loved that piano, and he loved playing it," says Saturday Night Blues host Holger Petersen. "Kenny Blues Boss Wayne loved playing it as well. It was good to have it. People really appreciated it because it's not really common when you're on the road and you visit radio stations, to find a really good piano."
Several of these performances can be seen on the Saturday Night Blues channel on YouTube.
Jerrold Eilander, orchestra operations manager, says the ESO already had two nine-foot Steinway pianos, a six-foot Yamaha as well as a slightly shorter Yamaha. But he says when the ESO found out the Bosendorfer was for sale in May, it figured it would be handy for situations where the stage is too crowded for the bigger Steinway and the smaller one isn't capable of delivering the right tone.
"Sometimes the nine-foot is too long for the space you've got," says Eilander, "The seven-foot gives a lot of depth and presence."
The ESO picked it up Aug. 29 and immediately brought it to Hawrelak Park for this year's Symphony Under the Sky, where Sara Davis Buechner performed Tchaikovsky on it. It was recently on loan to Citadel Theatre for a cabaret show with Susan Gilmour.
The purchase price isn't being disclosed. CBC Edmonton operations manager Don Marcotte will only say that the broadcaster got "market price" for the piano. A quick check online suggests that Bosendorfers of such size start at about $65,000.
"I probably could have put it on Kijiji and maybe gotten more money for it," Marcotte says, "But we wanted it to stay in the community."
The Austrian company that makes them was founded in 1828. The company's website explains that the extra keys were introduced in 1900 when composer Ferruccio Busoni transcribed Bach's organ works for the piano. Bosendorfer created a concert grand, called "The Imperial," with nine extra keys and a full eight octaves, and it's still the company's flagship piano.
The company's website includes testimonials from many famous owners and artists, and includes one from Placido Domingo which states, "Sometimes pianists try to sound like singers. Me, personally, I try to sound like a Bosendorfer." Oscar Peterson was also a fan.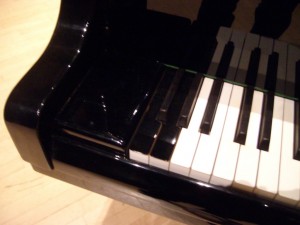 Decades ago, many radio and TV stations would have a piano somewhere in the building for live performances, talent contests and children's shows. But those days are long past and stations that still feature live performers, such as breakfast TV programs, usually make do with electronic instruments.
The decision to cut CBC's live recording budget was necessary because of plans to convert to digital music. The broadcaster couldn't afford both, Marcotte says, and he adds there was also a feeling that the local pool of top-drawer talent had already been recorded and presented in on-air broadcasts. Equipment, including the piano, as well as a $1 million recording truck, were sold. CBC Edmonton doesn't have a piano anymore.
"We're still going to record – we're not out of the business," Marcotte says, noting that the station recently taped The Irrelevant Show. "But we were doing 20 a month before."
Holger Petersen calls the chopping of live recording "a shame."
CKUA still has a piano and the station says it plans to move it from the old building in the Jasper Block to the station's new home in the Alberta Hotel across from the Shaw Conference Centre.
As for the Bosendorfer, it is still available to CBC if they ever need it again, Eilander says – since they're right across the street.