Bon Jovi to play Edmonton in April – 'Because We Can'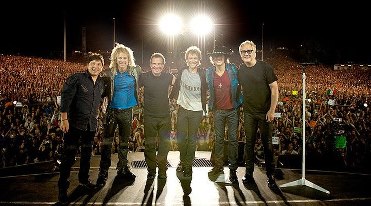 Bon Jovi doesn't need a reason to tour – "Because We Can" is the name of the band's latest jaunt around the globe. The band will hit Edmonton's Rexall Place on April 3, one of six Canadian dates announced by the band this week. Pre-sale tickets go on sale Friday; the public on-sale is expected next week.
But of course this venerable New Jersey rock group does actually have a reason to tour. They will be playing shows around the world behind the release of their upcoming album, "What About Now" – in stores in March – the title fitting neatly into the attitude behind "Because We Can" and, previously on a box set, "100,000,000 Fans Can't Be Wrong."
Whether you think they protest too much doesn't matter. Bon Jovi remains one of the top rock concert draws in the world. The band visited Edmonton's Commonwealth Stadium in 2010, throwing 40,000 deliriously happy fans into spasms of pure '80s nostalgia with hit after hit after hit. Jon and his bandmates hit a wee bump a few years prior in an ill-advised attempt to "go country" – the look on Richie Sambora's face during a country-rocking mini-set was worth the price of admission alone – but Bob Jovi soon got "Back in the Saddle" (they can use this if they want) and recommenced the rockin' goodness that fans had come to expect. What About Now, according to reports, will contain "rock with a lot of keyboards," while the tour boasts to reclaim the "essential live rock band" crown. Reclaim? Did they lose it somewhere along the way?