REVIEW: Rock of Ages succeeds despite, or maybe because of, cheesy music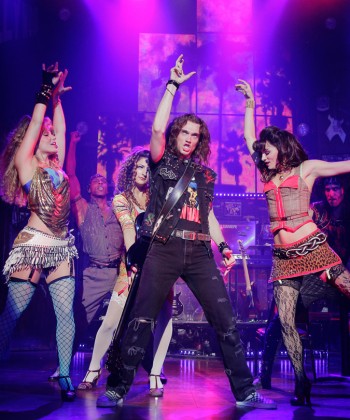 Going into Rock of Ages, the latest Broadway Across Canada production to set up shop at the Jubilee Auditorium, I had a real fear that this was going to be one of those shows that I would be tempted to leave at the intermission (I quit halfway through Cats; I don't care how popular that show was, it still stinks).
Rock of Ages is a so-called "jukebox musical" that weaves a paper-thin plot together with what we would now call "classic rock" songs from the 1980s. And not the good songs, either – assuming there were good songs from the '80s – but a murderer's row of genuinely terrible music. Like, come on, have you ever listened to "C'mon Feel the Noise"? The song list from Rock of Ages could give a strong man chills, and not the good kind.
This touring version of the hit Broadway musical faces the daunting challenge of overcoming its own musical score – but damned if it doesn't all work.
Rock of Ages is loud – really loud – profane, raunchy, sometimes sly and satiric, and just a whole lot of rockin' fun. There is a story that ties the greatest hits together. The Bourbon Room is a Los Angeles bar that has seen better days, but still keeps the rock 'n' roll faith. The venue attracts dreamers like nice guy Drew, a would-be singer-songwriter who wants to establish his rock bona fides with lyrics like "she had a great rack, and she grabbed my sack," and equally nice Sherrie, who says the Bourbon Room "smells like rock, and urine." The room is run by die-hard rocker Dennis Dupree and his sidekick Lonny, who also provides the narration. The bad guys, a father-son team of German businessmen, want to redevelop the area, beginning with the demolition of the Bourbon Room. To save it, Dennis invites the group Arsenal and its lead singer, Stacee Jaxx, to perform their final concert at the bar.
A bunch of other stuff happens, none of it surprising or worth recounting. What's surprising is just how funny Rock of Ages is. Narrator Lonny (played with Jack Black-style gusto by Justin Colombo) gets most of the laughs, particularly when he and Dennis turn "I Can't Fight This Feeling Anymore" into a suppressed-gay song and dance.
The plot, of course, is secondary, an excuse to string together a staggering number of songs from the era. To be honest, they're not all bad; I've always liked "Waiting for a Girl Like You" and "I Want to Know What Love Is" (is that shameful to admit?). But remarkably, even the dreckiest of dreck sounds pretty damn good with a kick-ass band and a bunch of singers with great 1980s-style pipes. And God help me, one of the most loathed of all songs, Journey's "Don't Stop Believing," which closes the show, sounded great.
Rock of Ages succeeds despite its cheesy music. One can only imagine how much a fan of these songs will get into it. The show runs through Nov. 11. Tickets at Ticketmaster.