With YouTube success comes responsibility for 'goony' local rapper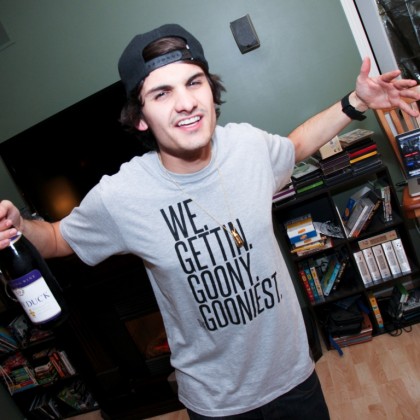 Video killed the radio star – only to be squeezed off the airwaves by vapid reality TV programming.
The music video has only grown stronger since moving from MTV to the Internet, and it's now more crucial than ever for unsigned talent. Young local rapper Jo Thrillz, a.k.a. Joel Vaillancourt, has mastered the art of the online video. He's amassed more than 2.8 million views on his YouTube channel for three dozen clips in the last two years, all from his home base in Edmonton.
Jo Thrillz recently dropped his sophomore album, Just Another Weekend, with a show at Yellowhead Brewery (10229 105 Street.
"I would definitely say for any artist in the age we live in that YouTube is one of the most popular mediums, if not the most powerful. Because they get to see you, your attitude," Vaillancourt says. "It's not that they can't see through music … but when people see the person behind the music, you're establishing a brand. And that's really what you've got to do."
Vaillancourt posted comedy videos and parody songs before taking a serious stab at hip hop. His most-viewed video is a 26-second clip in which he introduces of Justin Bieber holding his crotch after doing the "worm" onstage. In the clip, posted in November 2010, Vaillancourt proclaims that "Bieber has a vagina." Hit count: over 970,000.
Understandably, it was a battle for Thrillz – a former beatbox champion – to change his image and convince his YouTube subscribers he could really rhyme. Releasing his debut album The Gooniest in late 2011, less than a year after switching to non-parody rap, seemed too soon for some. But for anyone who wasn't convinced of his undeniable skill, he won the Hip Hop in the Park 2012 freestyle battle competition in May, defeating fellow Edmonton rapper Touch in the final round.
His frequent use of the word "goony," meanwhile, became his trademark.
"Goony, to me, is basically full involvement, full commitment doing something you want to do. Goony is doing you to 100% and just being proud of it," Vaillancourt explains. "If you're home-schooling somebody, that's not hip hop, that's not thug, but if you're doing a sick-ass job of it, then it's goony."
His most popular music video since his jump into hip hop is We Gonna Fly, with more than 65,000 views. It's not quite "Justin Bieber Fail on Stage," but impressive nonetheless.
As a serious musician, he's recognized the importance of putting out quality clips to build a long-term fan base.
"I've learned the ins and outs of YouTube. I could give a billion ways to get 50,000 hits in a day. But would that retain an audience base? Probably not," Vaillancourt says.
"I'd say if you want to make a fan base on YouTube, the No. 1 thing would be staying active … Another thing is just quality. I'd take quality over quantity anytime. Because if you spend a ton of time on one video and then you follow that with three crappy videos, it's taking away from how good that first video was."
He has worked tirelessly hammering out one video after another, most featuring him exploring Edmonton and laying down tight, good-natured rhymes with plenty of hometown shout-outs. Something of an online self-marketing guru, he's also gathered more than 47,000 Twitter followers (@JoelThrillz) without even having to tour, although he hopes to hit the road in the near future.
Despite being one of Edmonton's most internationally recognizable musicians, Vaillancourt still works a day job, has easily spent over $10,000 on recording music and shooting videos, and offers all his songs online for free. In short, this isn't making him any money. He's confident his work will eventually pay off, but when you're dealing with fickle online audiences that often feel entitled to free music, it's a gamble.
"I'm giving my music away for free and I know they're going to come back. They're going to be like, 'I caught this guy while he was early, while he was giving stuff away free,' " Vaillancourt says.
He's currently working on an acoustic E.P. with live drums, and plans to keep cranking out increasingly better videos to satisfy his YouTube subscriber base. After all, he notes, "With more success comes more responsibility."