On thin ice: play looks at global warming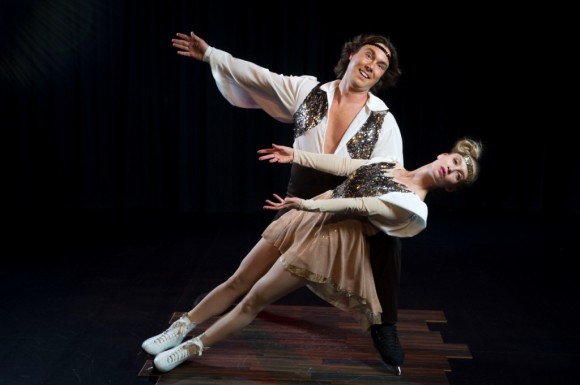 One of the most disturbing things about global warming is hearing people's reactions on how it's going to affect their "lifestyle."
Another example comes in a play called "6.0: How Heap and Pebble Took on the World and Won" – a funny yet poignant tale of champion figure skaters trying to stage a comeback in a world without ice, and therefore, without figure skating. All the other ice dancers gave up – except for this one persistent couple.
It opens Friday at the TransAlta Arts Barns – and yes, the performers will be clomping around on a hard wooden floor on real ice skates. Director Trevor Schmidt and his cast – Amber Borotsik and Jesse Gervais – will follow the stage directions: "They try to maintain their dignity as much as possible. They try to be graceful." Iceless dance routines will include a re-enactment of the Apollo 11 moon landing and a tribute to the Dalai Lama and Tibet.
It's hard to imagine something that funny having serious overtones, but it does, Schmidt hastens to add. Surprisingly, it doesn't come mainly from the ecological issue.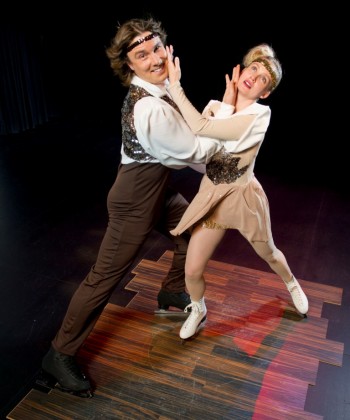 "It's quite a sad play, really," says Schmidt, "about this couple who have reached the peak of their sport and then it's ripped away from them. They're not sure they can continue on or if they need to abandon all the work and the dreams they had – just because there's no ice."
There are a few themes swirling around here. Olympic figure skaters in the real world face this sort of career dilemma: What do you do after you peak at the age of 19? You wind up wearing giant Goofy heads in Disney on Ice, that's what. Modern journalists also fear their sport is being ripped away from them. And Schmidt has some disturbing thoughts about the future of live theatre: "What happens if theatre dies? What do we go out and do then? I'm not sure my skill set is transferable to any other job … It feel sometimes like we're an endangered species. Without funding and audiences coming out, it's a really tenuous grasp we have on it."
The issue of global warming is not the point that drew Schmidt to this play, which he found on the Internet. The British performer-playwrights Valentina Ceschi and Thomas Eccleshare, of the Dancing Brick theatre company, had a big hit with it at the Edinburgh Fringe Festival and were reportedly surprised and delighted when Schmidt tracked them down and called out of the blue. It's the first time the play will be seen outside of the UK.
"I'm not very ecologically aware," Schmidt says. "I don't recycle, and I'm lazy. I understand there are many people who feel very strongly about those things, but I'm not educated enough to be making a social statement in that sense. I always choose shows for the emotional reaction it elicits in me. The fact that it has a global warming theme is secondary to the fact that it's an emotional story about the connection between these two people."
Nonetheless, he adds, "There's certainly a dystopian reality in the play. It's not very far off in the future. It's not some Blade Runnery future. It's very soon after today. So I think it examines whether there's a possibility for a hopeful future or whether it's just the start of a steady decline until we're the dinosaurs," he pauses, "that are gone."
That would put a crimp in your lifestyle.