Sci-fi-fantasy fans get another kick at the Con at PureSpec
It's a month after Edmonton Expo and a couple weeks after Halloween -and you still want to get more mileage outta that Commander Shepherd costume you worked on for a year? Fear not, sci-fi-fantasy lover, because Pure Speculation 2012 is coming your way this weekend at the MacEwan Robbins Health Centre (City Centre Campus, 104 Avenue and 109 Street).
Running Friday through Sunday, the seventh annual event is "a multi-faceted gathering for fans and creators of science fiction, fantasy, comics, film, games and the like. And the programming speaks to each of those interests," explains Diane Walton, one of the organizers. "PureSpec gives the creators a chance to engage with the fans of their art. And it gives the fans a place to meet each other and talk about the things they enjoy."
Although smaller in scale to some of more major Cons – like the Expo last month that featured cast members of Batman, Star Trek AND Star Wars – PureSpec is more of a traditional sci-fi-fantasy convention than a pop culture event. You won't be lining up for hours to get a signed 8×10 from some pseudo-pop culture icon like the lady who played Catwoman for a couple of years or that guy that was on Viking Quest (Victory!). What you will get is a chance to hear from and talk with some of the top creators in the sci-fi/fantasy field, including bestselling authors SM Stirling and Spider Robinson along with Canadian filmmaker Mike Peterson. His first feature, Lloyd the Conqueror (top picture), is about three college buddies who get involved in LARPing (Live Action Role Playing) in order to pass a course. The movie features Mike Smith (Bubbles from the Trailer Park Boys) and Brian Posehn (Brian Spukowski from the Sarah Silverman Show).
"What I am looking forward to is a panel by Michael Mott, who helped build props for the film 2001: A Space Odyssey when he was fresh out of school and just happened to apply for the job," says Walton. "Since all the props were ordered destroyed by Stanley Kubrick, Michael has a wealth of knowledge in his head, and a few rough sketches."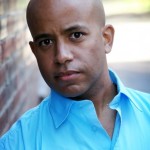 PureSpec is also tapping into Edmonton's dynamic sci-fi-fantasy scene. So there will be panels featuring authors Candas Jane Dorsey, Minister Faust (right), Barb Galler-Smith, Ann Marston, Amber Scott and Dave Gross plus Galen Pendleton and Lindsey McNeill, the brains behind the highly successful web series, Truck Stop Blood Suckers.
And yes, there will be CosPlay (costume play) so you can wear your Commander Shepard costume.