CONCERT REVIEW: Leonard Cohen class all the way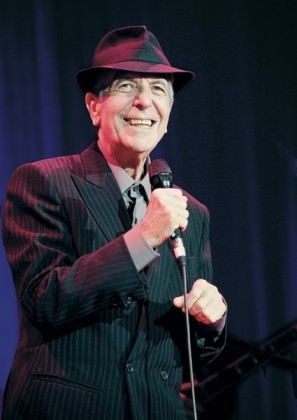 In the Internet age, when success is so often determined by slick branding and youthful imagery, it's telling that Leonard Cohen's cheekily titled 2012 album "Old Ideas" is far and away his highest-charting record, in a career spanning 12 studio albums dating back to 1967.
Cohen stepped out onto the Rexall Place stage Sunday night in front of a crowd of about 9,000 with his hat brim drawn low, dressed in a a slick suit and backed by a nine-piece band that was a perfect picture of class. The visuals were almost nonexistent, save for warm splashes of purple, red and yellow lighting on the curtains behind the stage.
It worked like a charm. When Cohen started putting music to his acclaimed poems he wrote in his 30s, he carved himself a unique niche – a place where flash, bombast and gimmickry are irrelevant. Cohen's Sunday night performance was proof.
From opener Dance Me to the End of Love, Cohen's genuine passion set the stage alight. The 78-year-old Montrealer grooved and kneeled on stage through his baritone classics The Future, Bird on a Wire, Everybody Knows, In My Secret Life and more, while the crowd of mostly baby-boomer couples was quiet, attentive and appreciative, at times, entranced.
If Cohen is on the road for financial reasons, it doesn't show.
In some spots, Cohen let his international band of phenomenal musicians take centre stage, like a blistering 12-string flamenco guitar intro to Who By Fire by Javier Mas that preceded Cohen picking up his own guitar for the first time that night, casting a 50-foot shadow on the orange-lit curtain behind him.
And then there were tracks sung entirely by the back-up vocalists Charley and Hattie Webb and long-time collaborator Sharon Robinson.
Cohen watched his musicians with reverence, introduced them multiple times, as well as his sound and lighting crew by name. Talk about class.
Other times, Cohen's masterful wordplay took centre stage as he conjured hopeless romanticism, political upheaval and the darkest corners of the human mind, while simultaneously tapping into the secret fantasies of every man and woman in the building.
Among it all, Cohen showed a wicked sense of humor, at one point asking himself, "When are you going to lighten up?" before There Ain't No Cure for Love.
Even during his heart-wrenching poetic reading of A Thousand Kisses Deep, he drew roaring laughter to lines like, "You came to me this morning and you handled me like meat – you have to be a man to know how good that feels."
After a brief intermission, Cohen returned behind the keys for Tower of Song, before revisiting his debut album for Suzanne and Sisters of Mercy – a song he recalled writing 50 years ago in a hotel near the North Saskatchewan River.
The second set, which brought the entire show to an impressive three-and-a-half-hour length, continued with new tracks from Old Ideas and necessities including I'm Your Man, Hallelujah and So Long, Marianne.
While his songs still seem like they would fit better in a small, smoky bar, he managed to reach every corner of Rexall as Edmonton fans hung on his every sad, remorseful, seductive and hopeful word until he closed for good with Save the Last Dance for Me.
It could not have been done better by someone 50 years his junior.
"I'll try another drug when I'm 85," Cohen quipped at one point.  "I'll try a little acid when I'm 90."
Here's hoping he keeps that passion burning for years to come.
READ MORE: Leonard Cohen the Godfather of Great Singers who can't sing