REPORT: Taboo takes sexual marketing to a new audience – women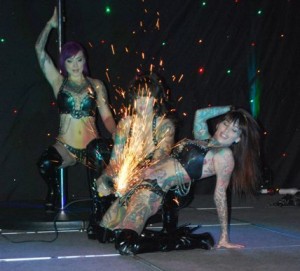 If we had a time machine, a young Ron Jeremy would've experienced an existential crisis at this year's Taboo: Naughty But Nice Show, which wrapped its three day run in Edmonton on Sunday.
The world's most famous porn star likely would have been wandering around the Edmonton Expo Centre in a daze, wondering where the throngs of beautiful blonde women with 38DDD's went, perplexed why all of the people attending seemed more interested in listening to seminars on how to please their partners than wanting to see his latest film in which he … well, never mind.
Just what is going on with the marketing of sex these days? Given the slow death of the pornography industry, sex is now being marketed to the masses in a different way, to a different  consumer group that pornographers were never able to reach with any degree of success.
Those people make up half the human population – women.
The proof is in the Taboo crowd: At least 60% of the estimated 20,000 people who came out were female.
Long gone are the days when women of yore interested in getting their Leif Garrett era freaks on needed to drive to the sleaziest street in town to purchase "adult novelty items" for themselves and their partners in stores located inside grimy, run-down buildings reeking of pee and industrial cleaning products, frequented by creepy looking men wearing little more than conspicuously stained trenchcoats. If that's what I had to go through to explore my sexuality, I probably would have traded it for a box full of Danielle Steel novels, too.
The exhibitors at Taboo 2012 were hell-bent … make that heaven-bent on increasing the pleasure benefits for everyone. The ages of attendees ranged widely, with plenty of middle aged couples. There were also a lot of young single twenty-somethings, and they were getting a positive message about sexuality: that it is normal, healthy and self affirming. During the seminar "How To Seduce and Get It On With Another Woman," two babyfaced 19-year-old men told the crowd they were there to learn new ways to please their girlfriends sexually. Imagine that happening in the '50s – or even as recently as the '90s.
While women of all ages attended the show in the company of female friends and family members, there was a noticeable absence of men checking the scene out with their buddies. One wonders if men are still worried that their male friends will think they're gay if they go to a sex show with other guys. A couple of older men spotted at Taboo looked like they could have been peep show booth veterans and seemed as if they were lost in space and time. There weren't any peep show booths.
Jennifer Skrukwa, a Vancouver BC based sexual educator and activist presenting at Taboo, commented that much of our education about the different forms of sexual expression is gleaned from pornography and is "shame based."  She said that the pendulum of social mores concerning how we view sex has swung to the right – as in repressed – in the last 20 years, and she does not believe this is healthy.
There was some pornography for sale at Taboo, but it seemed to be placed at kiosks at the periphery of the hall almost as an afterthought in a sloppy, haphazard fashion. There was hardly anyone interested in looking at it anyway. Of the few people perusing what little supply there was, one was a middle aged woman.
No raunchy stuff without intimacy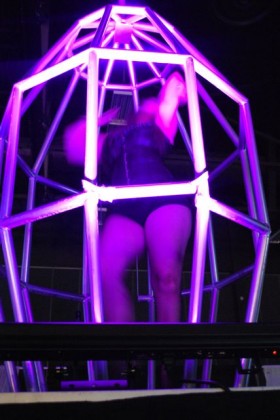 Romance novels are commonly referred to as "pornography for women," – but there's a lot more to this than Shades of Grey. There's a lot of money to be made. Mike Uhryn of Wares and Wear Inc., a Leduc, AB, based company selling fetish and kink lifestyle paraphernalia, says that women are driving a lot of the new interest in BDSM (Bondage, Dominance, Sadism, Masochism) lifestyle. Uhryn said that his best selling items are light bondage items inspired by the "50 Shades" trilogy, and that fetish item retail market has soared thanks to the widespread public acclaim of the novel series.
"People are asking a lot of questions," he says.
Amongst the exhibitors, this was evident in the presence of more female friendly items  – table after table of every sex toy, fetish instrument, piece of lingerie you could imagine.
Seeing multiple kiosks stocked with a trillion different kinds of vibrators and sex toys began to seem pointless after a very short period of time. There were items like the "Stud 100 Male Genital Desensitizer," the "Beverly Thrills 90210HO Love Doll," the "Mega Booty Beads" and "Topical Clitoral Pleasure Gel" – but it was clear that the overriding message was something much more profound. The busiest exhibitors catered to women and couples. Those catering to the stereotypical bastions of male sexual energy – hardcore pornographic movies, strippers, massage parlours, porn stars, erotic photographers – did not draw anywhere near as much interest.
Skrukwa says, "One of the most frequent questions I get from couples is: what kinds of toys are available to us as a couple?"
She adds that exploration of our "naughtier" sides is not only normal, but the logical consequence of a healthy intimate relationship: "Intimacy leads to trust, and if we don't have that, we won't get to the raunchy stuff."
Taboo seemed to show that women are more interested in asserting their desires in the bedroom. And yet, outside the safe confines of the exhibit hall, many of the messages we get are stereotypical perspectives about what is and what is not an acceptable sexual practice in society. Skrukwa sees these attitudes as "unfortunate" and says that those who don't want explore their sexuality are missing out on an important part of life.
"I want people to look at sex as nurturing, soulful and intimate, and that it requires self love," she says. "If we love ourselves, other people will be attracted to us".
The Taboo shows succeed by offering people the place and the opportunity to explore their sexual interests in a safe, healthy and sexually affirming environment. Thanks to annual trade shows like this, society's outmoded concepts of shame and sexuality are becoming less relevant with every passing year. So is the porn industry, for that matter.