What to expect when you're expecting Paul McCartney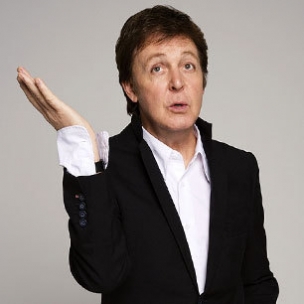 Edmonton is on the brink of full-blown Macca Mania, a frenzy of celebrity excitement not seen since Bieber Fever – except with Baby Boomers instead of teenage girls in their own rush of blithering Beatlemania 50 years later. Wow, man, circle of life.
Leading up to Paul McCartney's sold out shows at Rexall Place Wednesday and Thursday, the City of Edmonton is rolling out the red carpet. 102A Street will be (temporarily) renamed "Abbey Road," City Hall will be festooned with Beatlesque trappings, its bells ringing out lunchtime McCartney melodies. There'll be free screenings of "A Hard Day's Night" and performances by a Beatles tribute band. Local notables will share their favourite McCartney moments, sightings, gossip. The Twitterverse will be in a tizzy, Facebookers full of Face. Paparazzi will be on full alert. We're all paparazzi now.
It's not often someone of this stature comes to Edmonton, which generates a special kind of excitement that citizens of larger cities simply can't appreciate. The stars appreciate it, too. McCartney can expect a warm and polite welcome – while we can expect to play a rousing game of "Where's Paul?"
He plays Vancouver Sunday night, so he'll probably spend his days off on the coast before he comes here – hanging out with his pal Bruce Springsteen, maybe – though you never know. The Festival of Trees starts Nov. 29.
While in Edmonton, expect the former Beatle to stay at the well-appointed Fairmont Hotel Macdonald, like most visiting celebrities. The Queen of England stayed there.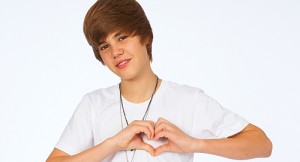 Sir Paul and his entourage are likely to arrive at the Municipal Airport via short flight on a private jet at a civilized time on the day of the first show, maybe the evening before. Give it even money his new wife Nancy Shevell will be with him. Selena Gomez came with Justin Bieber.
When U2 came for the first time in the mid-'90s, the band staged a press conference on the tarmac at the International Airport. Their private plane was a lot bigger than McCartney's. Bono even brought tea for the reporters. We can only guess if Paul will be feeling in the mood to be as big a publicity hound as Bono. There is the new Beatles "Stereo Vinyl Box" containing all of the band's studio albums – on vinyl! – for a cool $300 and change. He's also got a new album of covers called "Kisses on the Bottom," which could be the worst album title ever. But did we mention it makes a great Christmas gift? No? It makes a great Christmas gift.
Just joking. If Paul were to stage a press conference – the mayor does need to give him the Key to the City at some point – it's more likely he'll talk about one of the charities he's involved with. He's the richest singer in the world, worth a reported 497 million British pounds; he doesn't need to cheapen himself by hawking "product."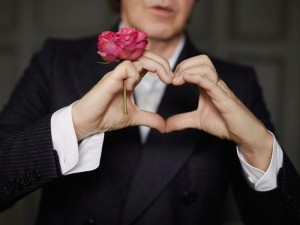 He may just want to say hi. Paul comes off like a nice guy, and he knows full well how special it is for Edmonton that he's here.
Other visiting stars can be quite private. They just want to be left alone, and the citizens of Edmonton usually respect that. The media, not so much. They camped outside the Hotel Macdonald for the super secret 3 a.m. arrival of the Rolling Stones back when the band played Edmonton for the first time in the mid-'90s. No press conference for the Rolling Stones.
The fun for area celebrity sighting enthusiasts – please don't call us "stalkers" – is wondering: What will Paul DO in Edmonton on Thursday before the gig? He's got one entire glorious day here. Bieber visited sick kids in the hospital, dined at the Blue Plate diner, popped by Metro Billiards. Lars Ulrich from Metallica went jogging in the river valley. Prince had a rehearsal at Axe Music. The Stones ate dinner at the King & I. Eddie Vedder from Pearl Jam jammed with his pals in Mudhoney at the New City Legion.
McCartney is 70 years old, of course, so Galaxyland is probably out. Try to imagine what most 70-year-olds like to do for fun in Edmonton. Casino? No. He's an animal rights activist, and a number of fans have been urging him to get on board with the campaign to send Lucy the Elephant to a sanctuary, so there's an outside chance he'll pay a visit to the Valley Zoo – certainly a very strange place for paparazzi to stake out. He's a vegetarian, so he might like Padmanadi on 107 Avenue, a highly-recommended Vegan restaurant. McCartney also likes museums.
Just trying to help here.
Oh, yeah, the concerts. What can we expect at the concerts? That was your question? Well, sorry. Never mind.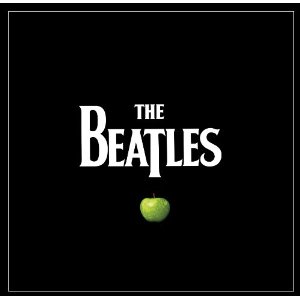 Here's a recent set list:
Magical Mystery Tour
Junior's Farm
All My Loving
Jet
Drive My Car
Sing the Changes
The Night Before
Let Me Roll It
Paperback Writer
The Long and Winding Road
Nineteen Hundred and Eighty-Five
Maybe I'm Amazed
I've Just Seen a Face
And I Love Her
My Valentine
Blackbird
Here Today
Dance Tonight
Mrs. Vandebilt
Eleanor Rigby
Something
Band on the Run
Ob-La-Di, Ob-La-Da
Back In the USSR
I've Got a Feeling
A Day in the Life
Live and Let Die
Let It Be
Hey Jude
ENCORE:
Lady Madonna
Birthday
Day Tripper
Get Back
MORE ENCORE!
Yesterday
Helter Skelter
Golden Slumbers
Carry That Weight
The End
Talk about high expectations