CONCERT REVIEW: Journey treats fans to '80s delights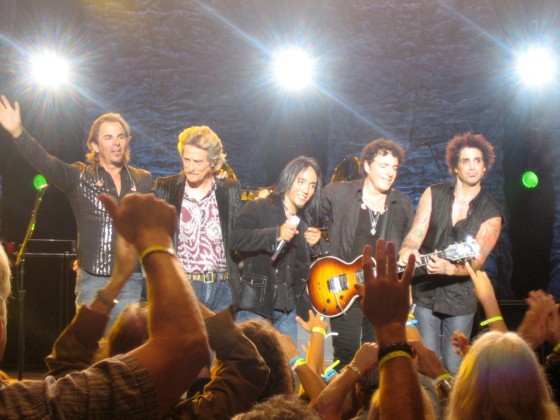 The last time Journey played Edmonton, Wayne Gretzky was 21 years old and the Oilers were two years away from winning their first Stanley Cup.
Thirty years later, both Gretzky and the Cup are long gone, but '80s rock is still going strong. Just ask the 11,000 people who came out for Tuesday's night show at Rexall Place with Journey, Loverboy and Night Ranger. These fans are cut from a more enduring and loyal cloth. The leather might be beaten and road weary, but the appeal appeared as strong as it was in 1982.
Kurt Cobain, the man long held responsible for killing '80s rock, would probably have hung his head in disgust at the spectacle. It's doubtful even the most loyal fan of any of any of these acts expected them to draw the numbers they did. There were as many people in the stands for Night Ranger that showed up to see Rush in September.
For Journey, finding a singer in 2007 named Arnel Pineda from the Philippines who could ape the voice of Steve Perry was a revelation at the time, but that was not the case on Tuesday night. The band had recently cancelled a series of shows earlier this month as Pineda had a severe throat infection, and it sounded like he was still on the mend. The set list, much different from the Calgary show at the Saddledome on Nov. 25, seemed to be structured to give him as much rest as possible, given the number of instrumental breaks by guitarist Neal Schon and keyboardist Jonathan Cain, not to mention the extended jams at the end of songs "Be Good To Yourself" and "Wheel In The Sky." While Pineda's overall performance was certainly fan pleasing, he largely steered clear of higher notes for most of the show. This became startlingly evident when drummer Deen Castronovo took over lead vocals on "Keep On Runnin'," from 1981's hit album Escape. His performance was nothing short of astounding, as he hit all of the song's high notes with strength, power, confidence and remarkable ease, all while playing the song's atypical groove.
Pineda got another rest as Castronovo and Cain tag teamed vocals for deep album cut "Just The Same Way," a minor US hit from 1979. Arnel right came back with a reasonably strong performance on fast and heavy rocker "La Do Da" from the band's fourth album, 1978's Infinity. Pineda's best vocal performances of the evening were "Open Arms,| "Faithfully" and "Lights," the power ballads that helped make Journey such a big deal back in the day.
The biggest roar of the crowd was saved not for their 1981 signature song, "Don't Stop Believin'" – brought back to life several years ago by "Glee" and "Rock of Ages" – but for 1983's "Separate Ways (Worlds Apart)." This seemed to be the money shot for most fans, as many began streaming out of the building as the band hit the final few notes.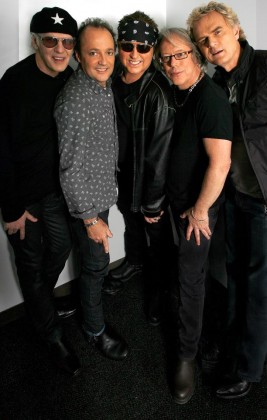 You can't have an '80s rock party in Canada without tipping the hat to Loverboy (right), which delivered an unexpectedly strong performance opening the show. The band did not play like a bunch of irrelevant old rockers cashing in on a big payday. Collectively they showed the chops of a band that deserved to be ranked among the best.
They paced their set very smartly in a 45 minute set, starting with a slow burn in set opener and new song "Queen Of The Broken Hearts" before moving methodically one by one into the old hits – "When It's Over," "The Kid Is Hot Tonite," "Lovin' Every Minute Of It," "Hot Girls In Love" – knocking them all off with fine aplomb. The loudest response from the crowd was reserved for "Turn Me Loose." It seemed to resonate much deeper with fans than you would expect of a song from a Mr. Lube commercial.
Vocalist Mike Reno, who would not look out of place as a cast member on "Ice Road Truckers," sounded like he is still at the top of his craft. His sedate stage presence during the show did not seem to fit with how well he came across. Despite continually touring across Canada and the US over the past decade, his voice still sounded strong, rich, resonant in tone and impressively intact over range. Drummer Matt Frenette sounded like he taught Deen Castronovo everything he knew, playing in the same hard hitting, rock solid style. And 66-year-old guitarist Paul Dean was the magician of the group. It looked like his hands barely moved during the solos to set finale of the band's best known song "Working For the Weekend."
While no '80s rock band could have pulled off a song called "(You Can Still) Rock In Canada" without inducing maniacal laughter, the first band Night Ranger did their best to evoke this ideal in their first ever Edmonton performance. Bass guitarist/vocalist Jack Blades worked the crowd like an industry vet right from set opener "Lay It On Me." While never generating much radio airplay up here beyond the perpetual junior high school shuffle of "Sister Christian," whose popularity has recently been resurrected (thanks again, Broadway), the band mostly stuck to stateside rockers  like "Sing Me Away", "When You Close Your Eyes", and "Don't Tell Me You Love Me" for the duration of their 35 minute set. Lead guitar prevailed as virtuoso Brad Gillis demonstrated his quite substantial chops throughout his various permutations on sundry '80s rock stage poses. This band was the most physically active group of the evening, with Blades and Gillis bandying about the stage as if their 1980's lives depended on it.
How could the Night Ranger highlight be any other than their biggest hit? Drummer and co-lead singer Kelly Keagy gets full marks for his ham-fisted take on a hair metal Pat Boone gone Broadway during "Sister Christian." Cell phone screens, evenly matched with Bic lighters, all quickly shot up as the children of 1983 gave tribute.
This long evening of 80's rock 'n' roll delights showed that while the '80s are over – along with the ethos of its obviously cliché- ridden music – there is no need for a revival. By the fans' reaction over the course of the show, the enduring mass popularity of arena rock acts like Journey has survived the test of time, as have all their fans. Were he alive to see it, Kurt Cobain probably would have never expected that.
(Top photo: Journey at a 2009 show Santa Barbara, California. Photo by Derek Owen)