Parts greater than the sum: Fleetwood Mac returns to Edmonton in May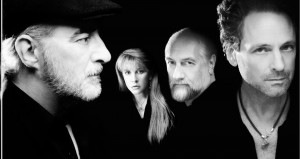 Continuing the ongoing rock concert series dominated by Legendary Baby Boomers comes the return of Fleetwood Mac in 2013.
Featuring most of its key original members, the band plays Wednesday, May 15 at Rexall Place in Edmonton, part of an extensive North American tour announced Monday. Tickets go on sale Monday, Dec. 17 at Ticketmaster, the pre-sale starting Dec. 13.
There's no new album to trumpet, if you don't count another reissue of "Rumours," the band's legendary 1977 album whose songs – The Chain, Go Your Own Way, name your fave – still hold up today. But no matter. There's lots of new solo material to keep it fresh. This is one great band whose parts may be greater than the sum. Or at least equal.
Stevie Nicks and Lindsay Buckingham, quite a pair without whom there would be no Fleetwood Mac despite the fact they joined eight years after the band formed in 1967, have both been especially busy with solo careers. Nicks toured behind the release of her successful 2011 album "In Your Dreams," while Buckingham – one of rock's great and distinctive guitarists – released his rock opus "Seeds We Sow." Band namesake Mick Fleetwood, meanwhile, has been making blues records.
As with Mac's last concert here, in 2009, expect a number of selections from respective solo albums, in addition to all the classic hits that make it possible for the band to come here in the first place.
As fans know, what really makes Fleetwood Mac work, even at this late stage in the game, is the contrasting styles of its members: Nicks, the laid-back witchy woman; Lindsay, the howlin' wolf guitar hero; and Mick the bluesy drummer – and don't forget bassist John McVie. The only one missing is John's ex Christine McVie – who lent yet another contrasting voice to the Fleetwood Mac sound, but sadly, she has since retired from the band.
However, as Baby Boomer Rockers do, they make do with what they've got – and fans are sure to eat it up no matter what. They're not this famous by accident.