Tegan and Sara bring Heartthrob to Edmonton in March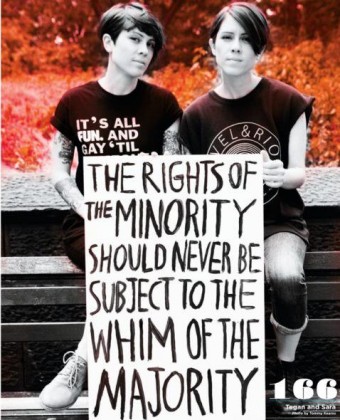 Of all the labels that get attached to the twin sister singer-songwriter politically active folk-rock duo Tegan & Sara, it might be time to take back the word "indie." They're mainstream cool now.
The duo returns to Edmonton this spring for a show at the Shaw Conference Centre, part of a tour to give fans a live blast of tracks from the upcoming album, Heartthrob. Tickets go on sale Friday. It's expected to sell out. Last time here, Tegan & Sara did a two-nighter at the Jube: More than 5,000 local fans, almost entirely young women.
It's been great to watch these Calgary girls – who started off as Sara & Tegan, funny story – develop from an indie duo plying their quaint folk songs in tiny coffee houses and bars to the big deal they are today. There are a number of signposts to their success: From relentless touring and recording, T&S "found" their sound in 2004 with the hit single Walking With a Ghost. Then the White Stripes covered it, sealing their hipster cred. Around this time, the sisters became outspoken about their own sexuality and on a number of ensuing social issues. If there's a stand to be taken on gay rights, Tegan & Sara are likely to take it.
This is a big reason for their success, it can be argued. It's not the only reason, but it's a big one. Strong songs are still the key – and it looks they've got another hit on their hands with the new one: Closer, a perfect bit of steamy pop goodness currently getting air on top-40 radio. Nope – no longer indie. Apply all other labels as needed, with caution.