MAIMANN DOWN UNDER: Cross Turbonegro off bucket list
SYDNEY, AUSTRALIA – I waddled into the Hi-Fi club feeling the ground sway relentlessly back and forth, reeling from a three-day boat trip through the Great Barrier Reef. The hangover and ensuing plane ride that day probably didn't help.
But it was fitting that when I arrived to see Norwegian rock 'n' roll cult heroes Turbonegro, swarms of fans were sporting sailor hats emblazoned with the band's logo. Hundreds of punks, drunks and freaks had descended on the venue, which is uncomfortably plunked into the middle of Sydney's ultra-hip Entertainment Quarter. Turbonegro was reason No. 1 for my 24-hour trip from Edmonton, Alberta, Canada to the Land Down Under. They were a bucket list band, you see, and one should be dead serious about bucket lists.
A former manager of a popular Edmonton venue told me he tried for years to bring the cheeky, self-proclaimed "death punk" band to Edmonton, and knew other promoters doing the same, to no avail. The band being more than two decades into its career, I decided it was time to come to them.
Drinks flowed early to opening act Bruce! and Sydney punk favourites Epics. Early on, a young Swedish dude beside me pulled out a small, mysterious tin, and a large bearded man accepted his invitation to insert one of the tin's mystery balls up his nostril for a "good high."
Yep, this was a rock show.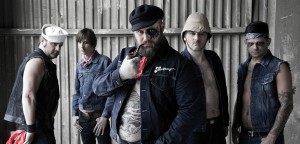 Turbonegro came out in typical denim-drag attire, with new frontman Tony "Duke of Nothing" Sylvester showing off a five-eyed tiger tattoo across his sizeable belly as he belted out "Hello Darkness" from the band's newest album Sexual Harassment.
When the five-piece tore into "All My Friends are Dead" – best-known over here from the Jackass 2 soundtrack – all hell broke loose while I tried to maintain my balance amid shoves and elbows from the side of the now-raging mosh pit.
Bassist Happy Tom plunked along in sailor hat and blush, while the guitarist Euroboy puckered and gyrated with New York Dolls swagger and effortlessly ripped through face-melting leads. Rhythm guitarist Rune Rebellion hung back, a hat covering his eyes the entire night.
The band's homoerotic, offensive-to-anyone-who's-not-in-on-the-joke humor was flying all night. Tom joked that Sylvester – the replacement for longtime singer Hank Von Helvete, who struggled with drug addiction before parting, then started an industrial goth band called Doctor Midnight and the Mercy Cult, and judged 2011's Norwegian Idol – was born from sperm that Bruce Dickinson spat into the lady parts of the "ugly one" from Bananarama. Shots were taken at the expense of the Australian audience, with Sylvester joking he'd been told all Aussies were ugly. He made up for it by proclaiming the crowd was beautiful and he was going to "fuck every single one of you," before launching into a song called "Fuck the World."
This was immaculately crafted rock 'n' roll, with sharp edges intact and a hard-on for all of its indulgent absurdities. It even included a "Wall of Death," the most brutal of mosh-pit traditions, during which Happy Tom called for "Convicts on this side, Aboriginese on this side." Watch it, mate!
The band ripped through songs mostly from its recent catalogue, including Wasted Again and Turbonegro Must be Destroyed, before walking off stage only to have the crowd let out a deafening three-minute chant demanding the obvious fan favourite, a hit from 1996: "I Got Erection." Let me state for the record: that was the best call for an encore I've ever heard.
Happy Tom started the opening bass riff twice, stopping both times before bursting into a faux tantrum and shouting, "What if we don't want to play that song? What if we want to grow as artists? I have to wear this hat to feed my family!" He tossed his hat to the crowd to much applause, and when the band finally launched head-on into the song, the place erupted one more time.
Closing with a surprise cover of Pere Ubu's "Final Solution," Turbonegro left with a bow and a tip of the sailor's hat.
On the song What is Rock?! from 2007 album Retox, released 15 years after debut Hot Cars and Spent Contraceptives, the band calls itself the saviour of rock 'n' roll. As I left the Hi-Fi still wobbling (this time with help from a couple beers) I couldn't help but think that goddamnit – tongue in cheek or not – they're onto something. My quest had brought me to the heart of rock 'n' roll. Cross that one off.