REAREND IN VIEW: Our top stories of 2012
Posted on December 28, 2012 By Mike Ross Culture, Entertainment, entertainment, Front Slider, Life, Lit, Music, TV and Radio, Visual Arts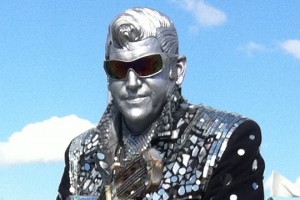 The most popular stories GigCity published in 2012 started in January with a viral video of "strange sounds in the sky" that prompted a local debunker to create a hoax video to prove the original was a hoax, but the plan backfired when her video went viral, too, as did the article we wrote about it. This was by far our most popular story of the year.
It got weirder from there.
The arts community was bewildered over a police raid on a local art gallery. Turns out cops were looking for a graffiti vandal who happened to be putting on an art show: one "Daft Punk," who was wanted in the connection of several local graffitiings. The raid led to a man being charged with 35 counts of mischief under $5,000. The episode suggested that art criticism may be an important tool in law enforcement, while asking a hard question of other graffitists: Can one be both artist and vandal?
Architecture in Edmonton has always been weird – and wonderful, if you happen to like weird, and we do. That goes double for some of the public art, thanks to the "per cent for art" policy that results in a multitude of sculptures, murals and other decorative installations near every new public building. The Talus Dome was made – for $600,000 – with the Whitemud bridge project. The renovated airport unveiled a series of snazzy new pieces, including an amazing mosaic depicting an aerial view of the city through four seasons.
The whole thing about the rebuilt Alberta Hotel is particularly odd – just to imagine what city planners in the '80s were thinking: "So we're going to tear down this beautiful landmark hotel brick by brick in order to build the hideous Canada Place, and then save the bricks in case we have rebuild it again 150 feet away from its original location 25 years from now? Good plan!" Anyway, it's all open again, or right soon, and they rebuilt the original pub, too. The CKUA Radio Network is the flagship tenant, having moved from the crumbling Alberta Block several blocks West, where they'd been since 1955. They made a really big deal about it.
In other radio news, aside from the addition of Fort Saskatchewan's first radio station – which sounds like Now! 102.3 radio from three years ago in an alternate universe – it was pretty quiet on the Edmonton radio scene. Relatively speaking. The top-40 stations were locked in a three-way death battle with the billboard-fueled Now! sitting on their heads. Hot 107 also got bought by Harvard (owner of Lite 95.7) and its program director Russell James moved back to the Bounce – and that was about it.
The most popular radio personality we profiled was Sonic morning man Garner Andrews, who had some interesting things to say about the secret to good radio. Short answer: Let the listeners talk. Melissa Wright from K-97 claimed and then proved to be able to tell you the exact running time of any classic rock song you could name. Marriage on the radio was explored through the team of Jamie and Dan from Lite 95.7, with Now's Crash and Mars – the "will they or won't they?" couple – not returning any of our calls. Lesley Primeau gave us a glimpse into the curious world of 630 CHED. Yukon Jack opened his Big Yap.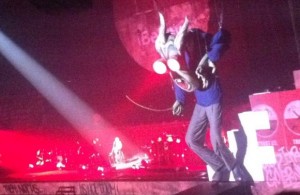 The only thing unusual about the year of major concerts was how heavily it was weighted towards old men – like Leonard Cohen, Bob Dylan and Roger Waters, to name three we covered. The weirdest part about Paul McCartney coming to town is how he apparently stacked the front rows with young people so he would look good at his two sold-out concerts. At least one critic noticed all the screaming young girls in the front row and thought, hey, this old Beatle still appeals to the kids! Guess it was just an extra touch to a night riddled with unexpected delights.
Our writer Rob Drinkwater came up with three stories that explored the dark side of bicycle culture: Getting wasted while riding, bicycle sex and an interview with an anonymous bicycle vigilante who uses his iron u-lock to thwart evil-doers, clonking heads, smashing windows and neck-cuffing miscreants in the service of meting out righteous bicycle street justice. Just so we're clear: Cops frown on this sort of thing.
Edmonton had a lot of problems naming things this year. We always do. It was the last year for Capital Ex – the badly-named festival formerly known as Klondike Days – and they held a contest to come up with a new name. Thing is, they included "K-Days" among the choices, and it won by a landslide. So now we're back to K-Days, with a vague rebranding that may or may not include a nod to the Klondike tradition that Edmonton was never a part of.
From strange to unfortunate, a few beloved institutions closed this year: Sad for book lovers was the shuttering of the venerable Greenwoods Bookshoppe in Old Strathcona, following the sudden death of the owner Brad Greenwood. In music circles, Edmonton will soon be without a "mid-sized" music venue when the Edmonton Event Centre shuts down in January. And just about a year ago, the Wild West disappeared – the last remaining "A" room for live country music, or so it seemed. While many rued its passing, the neo-folk-quasi-country scene thrived on, showcasing music that more or less sounds like country music without all the cheesy trappings, in bars like the Haven Social Club and the Artery and cool little coffee shops, kind of like the way it was in Toronto's folk boom in the '60s, or so we imagine. Also, there's a new country bar in the Wild West space now, called Fandango's.
When one door closes, another opens, sometimes more than one.
Finally and most sad, Edmonton lost a number of important arts people in 2012. They included the legendary patron of the arts Barbara Poole, beloved folk fest figure Don Snider, music producer Colin Lay and veteran rock musician Brent Macnab. They will be missed.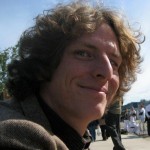 One of the most tragic losses was Darren Zenko, who died of cancer on July 4 at the age of 38. Pretty much the best video game reviewer ever, among other pursuits, the local writer possessed the rare gift of being able to cut through the bullshit without ever intending to be mean. It was Zenko who suggested, in a roundabout way, that it might be dumb to refer to GigCity as a "digital magazine" when words like "website" or "blog" would suffice. Good call, man.