2013 CONCERT PREDICTIONS: Year of Young Women ahead

Hari Seldon – central character in Isaac Asimov's sci-fi masterpiece "Foundation" – was onto something there, but he didn't need to make such a big deal about it. It's easy to predict the future by analysing the events of the past.
At least it seems to work for the near future of major concerts expected in Edmonton in 2013. All you have to do is crunch the numbers:

Where "X%" is the probability of a band coming to town in a given year, "CD" is whether or not they have a new album, "e" is if anyone in Edmonton actually wants it, "t" is the history of said band touring Canada, "$!" is the amount of seats short of a sell-out at the band's last concert in Edmonton, "f" is the artist's level of global fame and/or wealth, which is inversely proportional to the need to come to a secondary market like Edmonton, and "W" is wishes – because in the concert business, wishes are horses.
See? It's easy! Admittedly the equation needs some work. There are other variables: Number of years since last appearance, since last hit on the radio, if they've already exhausted the primary markets, the possibility of a folk fest booking, lead singer's drug intake. Concert prediction is as much an art as it is a science.
And so, after painstaking mathematics (no, I am not going to show the calculations … ), 2013 is shaping up to be the Year of the Young Women, contrasting to the Year of Old Men in 2012. It will be a much more attractive year, with a few notable exceptions.
Black Sabbath
These guys were on the "good bet" list last year, but circumstances, including Tommy Iommi's battle with cancer, prevented what could've been a sure sell-out at Rexall Place, maybe two nights. Iommi seems to be recovering nicely. Ozzy's still going strong. The new studio album, Eternal Stars, comes out in April. They'll do Ozzfest Japan in May, and Iommi says "we'll tour as much as we're able" for the rest of the year. Good bet, again. Commonwealth Stadium?
Selena Gomez
She was a huge hit and a sellout in October 2011 with a lavish Disney-esque show that raised the bar for teenybop concerts. She has a new album out in March. Good bet.
Nicki Minaj
(Top photo): Last here opening for Lil' Wayne, now huge, has a new record, good bet to headline by summer.
Carly Rae Jepsen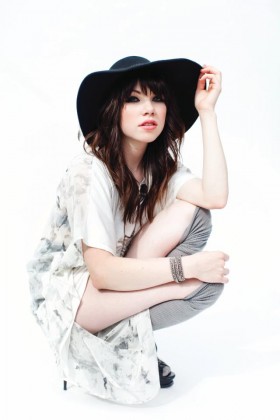 (Right): Ditto, see above, substitute "Justin Bieber" for "Lil' Wayne."
One Direction
Not a no-brainer considering the sad showing for the TV boy band Big Time Rush in 2012, a paltry 4,000, tops. Nonetheless, the force is strong in these lads who are male answer to the Spice Girls, whose song "You Don't Know You're Beautiful" defies both logic and common sense. If you tell a girl she's beautiful ONLY because she doesn't know she's beautiful does that not make her ugly? Head-scratcher, that one. Fair to middling bet for late 2013. The Backstreet Boys will have a new album, too.
Avril Lavigne
The kid hasn't missed Edmonton yet. Her fifth studio album comes out this spring. Expect a big tour to follow. Since she's hooked up with Chad Kroeger, fans can expect something a little more "Nicklebacky."
Mumford & Sons
Can't get over the Muppety name here, but Sonic radio is playing the crap out of this exuberant banjo-whomping band that Mark E. Smith of the band the Fall (who?) called "retarded Irish folk singers." Ah, maybe they could be a folk fest booking? Too big, probably. They're in Europe through April, expect North American dates by summer.
Bruce Springsteen
One Old Man who didn't make it to Edmonton in 2012, and he's not likely to come this year outside of a surprise windfall booking at the folk fest. Wishes! While many consider his most recent music the most meaningful of his career, it's been long time since the Boss had a hit single. His last show at Rexall, in 2003, barely cracked the 8,000 attendance mark. Is this guy Jube material? Don't bet on it.
Taylor Swift
Country artists tour more than rock artists, even ones that don't sound like country, she has a new No. 1 album and last time in town did two sold-out nights at Rexall. It all sounds so good, right? Wrong. The crucial "f for fame" factor kills us this time. Edmonton is not on an extensive list of tour dates already announced for 2013; Vancouver, Winnipeg, Toronto in June, that's it for Canada. All fans can do is hold out hope for the second leg. We're just a second leg kind of town.
Bruno Mars
That's enough about stars who aren't coming. No point making a list like that. This behatted hybrid of Sam Cooke and Sting has a fresh album, Unorthodox Jukebox, and is expected to announce dates for a world tour shortly. Fair to good.
Tim McGraw
"Two Lanes of Freedom" comes out in February. We like two lanes of freedom, too. His shows always do well in Edmonton. After a stint in Vegas, he's already booked at the Calgary Stampede in July. Should be a sure bet.
General Divas
Katy Perry, Miley Cyrus, Lady Gaga, Celine Dion, Janet Jackson, Mariah Carey and Cher are all releasing new music in 2013. None of these high-powered queens of pop yielded a high probability of coming to Edmonton this year, but chances are at least one of them will. Not Cher.
Eminem
Often we catch a top-level artist after their zenith of fame, so with Eminem's new as-yet-untitled CD set to drop this year, wishes run high. Rap shows can be dodgy in this market, but Eminem would certainly be a Rexall sell-out for his first appearance in Edmonton. Fair.
Alice in Chains
One of the best bands of the Seattle grunge scene has returned against all odds and death of co-frontman Layne Staley, with a new single, Hollow, on a new studio album to follow this spring. Wishes are of course flowing in from all corners of the continent, but don't rule out a show in town in summer or fall.