Why Blue Rodeo never wears out its welcome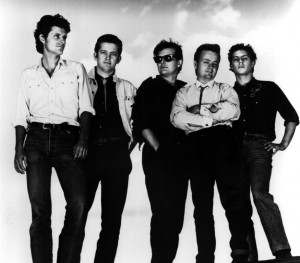 How many times have we seen Blue Rodeo in Edmonton?
Given at least one visit for each album plus eight folk fest appearances over almost 26 years, the conservative estimate is that they've played here 23 times. Does that sound right? Could be more if you count solo appearances from the two frontmen Jim Cuddy and Greg Keelor. Plus there was that surprise gig at the Black Dog one time.
This coming Tuesday and Wednesday at the Jubilee Auditorium will mark shows No. 24 and 25 – for an estimated 5,000 local fans who obviously aren't sick of these guys yet.
This has been a remarkable run. Name almost any other Canadian band of this vintage and you'll see a much steeper career arc: From bars to halls to soft-seaters to arenas, sometimes skipping a step, then back down again – that is, if they can stay together that long. Blue Rodeo played Edmonton in 1987 behind its debut album Outskirts, at a little off-Whyte club called Andante's for maybe a dozen people. This was before they released the single "Try," after which the band hit Jube level and never looked back, steady and dependable ever since.
This is, from a humble Canadian point of view, one of the great partnerships in music history. It's a mystery how and why such musical marriages have given us such great music. It doesn't happen very often, it rarely lasts long, often love turns to hate and inevitable break-up, but Blue Rodeo has held fast for decades. Friends and partners since the '70s when they were in a post-high school band called The HiFis, Cuddy and Keeler belong to the same legacy as the Everly Brothers, Simon and Garfunkel, Lennon-McCartney, Jagger and Richards, Burt Bacharach and Hal David, Elton John and Bernie Taupin, Leiber and Stoller. It's not a long list, but it's an important one. Getting two brains, two artistic egos to work together on a single body of work is a rare and special thing. The evidence is there on the new boxed set, "Blue Rodeo: 1987-1993," celebrating 25 years with an eight-disc set that encompasses seven years – presumably continuing the spirit of temporal confusion seen with Five Days in May and Five Days in July.
On the topic of marriage, which is like being in a songwriting partnership, Leo Tolstoy wrote, "What counts in making a happy marriage is not so much how compatible you are, but how you deal with incompatibility." Or words to that effect.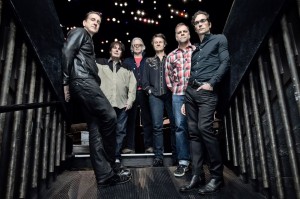 It's contrast that makes these things work. Many Blue Rodeo fans had the opportunity to see the separate elements of the band in their respective solo shows. It's a cliché to say that it's a light-dark thing, but like many clichés, this one is true. Cuddy represents the happy-go-lucky side of Blue Rodeo, brimming with pop sensibility and warm humour, but he can rock, too. His solo band last played the Jube almost exactly one year ago, and it was a happy time. He was also a special guest at the recent Edmonton Comedy Festival, where it was reported he "killed." Keeler, whose voice and looks are less smooth than his partner's, takes a darker, more reflective approach. In the late '90s, he toured on an album he aptly titled "Gone," which deals with his interest in Hinduism. He told the small crowd at the Myer Horowitz Theatre as he started, "You don't know what you're in for at all." He was right.
But there was "something" missing from each show, even if you couldn't articulate it. Fans had long become used to the complex chemistry of the Blue Rodeo sound, that quirky brand of country music for people who didn't think they liked country. These guys were "alt-country" before anyone thought of country as having an alternative genre, before even "alternative rock" became a vogue term, and never once wore cowboy hats, even ironically. They were dead serious about their country. For the first half of the 2008 show here – another two nights at the Jube – they came out as a jug band, unplugged, acoustic, stand-up drummer and stripped down arrangements that wouldn't have been out of place at the Grand Ole Opry in 1956. They rocked out in the second half.
They can get away with things like this, or with playing almost all of their album "The Things We Left Behind" in 2010 – yet another two shows at the Jube. They can even leave out "Try" and not get lynched for it. It proves Blue Rodeo has escaped the usual music business hamster wheel. Many tours live or die by whatever hit the band happens to have on the radio at the time. Blue Rodeo hasn't had a true "hit" in at least 15 years, and yet is still one of Canada's top concert draws.
Aside from the magical partnership, one key is that they don't play just to please their audience. We would never hear them declare like some hot country singer, "Without you fans, I wouldn't be here!" If they'd been pandering or phoning it in at any point in the last quarter Century, Blue Rodeo would've been on the casino circuit a long time ago. It's obvious they make music to please themselves first, and therefore tend to put on shows that remain fresh and vital even all these years later. Here's looking forward to the next 25 Blue Rodeo shows. Could be more.