DEEP FREEZE: Frozen Fringe Festival fantastic fun for frosty folk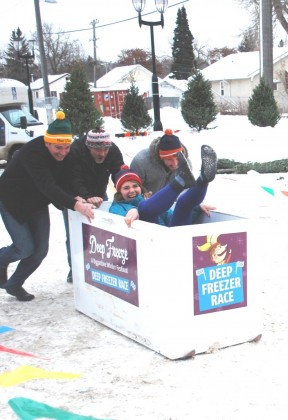 If you're going to put on a winter festival in Edmonton, it is imperative that you have a place for people to get away from the winter – and that's one of the reasons why it's so challenging to put on a winter festival in Edmonton. Winter sucks, not to put too fine a point on it.
Nevertheless, Deep Freeze: A Byzantine Winter Festival has managed to thrive with a multi-cultural gumbo of outdoor and indoor events, sports and arts, hot and cold. The sixth annual event runs Saturday and Sunday, Jan 12-13 on Alberta Avenue (118th) between 90th and 94th Streets. Outdoor activities, skating, curling, sledding, maple taffy-in-snow eating, snow sculpture admiring, and so on are expected to draw crowds up to 10,000, who will then immediately want to warm up with shows and exhibits at a number of area venues. The whole place basically turns into a frozen Fringe. Only one difference: Most of it is free.
"We understand a lot of people in Edmonton just bear and tolerate the winter and that's about it," says Deep Freeze producer Cadence Konopaki (who programs the event with artistic director and unofficial mayor of Alberta Avenue Christy Morin). "You don't have to love the winter to come and enjoy this winter festival."
The chosen theme this year is "Wild, Wild West." Attendees are encouraged to dress the part. It's not mandatory. Numerous attractions will play more on the multi-cultural-ness of the event, entertainment and arts paying homage to Edmonton's Ukrainian, Francophone and Aboriginal roots, and more – sometimes all at the same time.
"It's a big hodgepodge," Konopaki says, "but for me it's a really great representation of Canada. It's a great cultural festival. This is one of these things where you can come and fit in anywhere."
Saturday's events will have an Acadian-Francophone theme. Sunday is Ukrainian New Year. Close enough. And it all comes with food: Poutine and sugar pie on Saturday, borscht on Sunday. Hardy Canucks will be invited to participate in outdoor log sawing contests and freezer races – actual deep freezers with the lids taken off, mounted on skis, filled with people and pushed at high speeds. Or you could watch a significantly slower but probably more dangerous ice carving competition, done with chainsaws. There will be street hockey, on ice and no cars. Four hockey rinks will be poured right on the Avenue, in addition to the public rink in the back of the community hall. Skate rentals are free, as are snowshoes and the giant ice slide.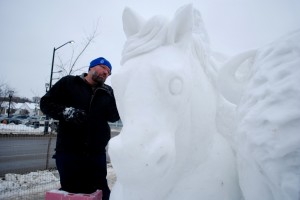 It all sounds so winter wonderful, but the weather has a profound impact on attendance. In 2010, when it was nice, they got 15,000 people. Only 5,000 turned up in 2011, when it was 20 below with blowing snow. The forecast highs on Jan 12-13 are around minus 11, plus windchill. Expect the indoors to be pretty crowded.
The Avenue Theatre is running free shows on both days, including "Mummers" plays, a medieval form of theatre that involves rhyming verse, death, resurrection and social commentary, not necessarily in that order. Also, sword fights. Elsewhere in the indoor schedule, there is folk music, Irish dance, Ukrainian singing, Chinese dancing, belly dancing workshops, you name it, along with a myriad of visual art on display, and shopping, of course. Fireworks will be blown off Saturday night in a tribute to the late Don Snider. Outside, not inside.
The only ticketed event is the Saturday night dance at the community hall, this year featuring local worldbeat band Le Fuzz. Tickets to the "Wild East Party" are $10 for adults, $5 for kids.
This festival is just part of Alberta Avenue's renaissance. For more, refer to a documentary called The Avenue made about the transformation of this once-dodgy area into one of Edmonton's most happening arts districts in less than 10 years. It was a quiet revolution. The festivals helped. Attendance at the area's summer Kaleido festival is pushing 20,000. Deep Freeze is likely to do as well – as long as they keep offering lots of ways to get warm and have fun at the same time.