EDMONTON RADIO: Hotter AC fuels Fresh 92.5 FM launch
You can launch like a mighty rocket roaring into the sky, and everybody says "Wow!" Or you can do it like a balloon full of hot gas, until someone notices, "Hey, how'd that get up there?"
In Radioland, this is the difference between a "hard" launch and a "soft" launch. The perfect example of the latter is seen in the recent rebranding of Fresh 92.5 FM, formerly Joe FM, with the motto, "Life's short, have fun." Thanks for the reminder, guys.
This is a weird one. There are no new on-air personalities – yet – they've done no advertising (yet), and the musical format is very close to what it used to be at Joe. One local record rep put it like this, "It used to be hot AC, now it's hotter AC."
So what's the point?
Greg Johnson, the Fresh brand manager (obnoxious new term for program director), wrote back after repeated interview requests, "Thank you for your interest in The New 925 Fresh FM. We are very grateful for the time that our audience spent with JOE FM.  We did have a dedicated group of passionate friends that we enjoyed connecting with every day – either on-air, on-line or in the community. The reality is JOE FM had been struggling ratings-wise; with performance expectations being lower than expected. The introduction of The New 925 Fresh FM to Edmonton was necessary to grow our audience and better serve our advertisers. We believe the Fresh format will be a welcome addition to the market."
AC allegedly stands for "adult contemporary," and "hot" must give it permission to play "We Are Never Ever Getting Back Together" by Taylor Swift. Instead of narrowing the musical focus, Fresh has widened it. They play old Lady Gaga and new Bruno Mars, Bryan Adams and Bon Jovi amongst Rihanna and Pink, Mumford and Sons nestled with Maroon 5, and the odd spin of classic hits like "You Spin Me Right Round (Like a Record)" – the old version.
In short, they're obviously going after Now! 102.3 FM – the highest rated station in Edmonton with the biggest dog's breakfast playlist of hits from today and the day before yesterday.
The only difference is that there are surprisingly few of the truly hateful songs that pop up on other stations – not a lot of one-hit wonders, no crappy dance remixes, and neither Michael Buble nor Hootie in the Blowfish were heard during a two week sampling period, and no "How You Remind Me," either, just that other Nickelback song that sort of sounds like How You Remind Me.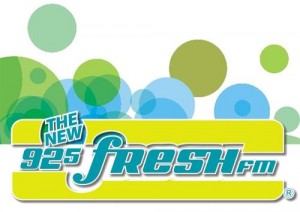 If all these goddamned radio stations are going to sound the same, why would a listener pick one over the other? There's what, 18 stations on the dial? You can just flip around until you find a song that doesn't make you want to crash your car. It doesn't matter how wonderful and witty and interactive the morning show host is, as soon as "Jack and Diane" comes on, it's time to turn the channel. Or insert your own hated song. Allowing listeners to get involved is fine for building an audience, but it's the music that keeps them there.
Responsible for maintaining the musical direction on Fresh is music director Dave Sawchuk, who is the only new hire at the station. He comes from a stint as promo guy for EMI Music, recently eaten by the Universal Music Group, and prior to that was music director at a station in Victoria, B.C.. Schooled in communications and broadcasting, he's passionate about music, and has obviously put some thought into the Freshened playlist.
Good to know. It's still nice to imagine radio as an invisible human friend who is talking directly to you, and is personally selecting songs that you might like to hear. Yes, it's an illusion in modern times. But that's how one grows to trust a favourite radio station. K-97 listeners, for example, are among the most loyal in Alberta because they know deep down in their hearts they're never going to hear Marianas Trench.
It's hard to say if such loyalty is even possible in the eat-your-young top-40 world. The war has been ugly in this market. The three CHR (contemporary hit radio) stations in Edmonton, the Bounce, Virgin and Hot 107, are effectively in a three way ratings battle for last place. They are the hardest hit by Now!'s remarkable domination. Is it because of its massive billboard advertising, the social "interactivity" or the playlist that tries to please everybody? I guess we'll find out with Fresh. And with the recent firing of Bounce morning man Marc Michaels (now working for Calgary's Virgin station), there are even rumours that the Bounce may be getting ready to flip to a new musical format.
Make it a rocket this time.