Questions unasked and unanswered by Oprah Winfrey
Some attendees at Oprah Winfrey's "inspirational evening event" at Rexall Place on Monday night were under the impression that select members of the audience would get that special chance to ask a question of the Queen of Talk.
Wrong.
Turns out that only George Strombolopolous got to talk to her on stage, after a 70-minute ramble of empowering, mystical, autobiographical, life affirming monologue that had something to do with the secret to "finding your calling" after having "been called," which everybody is by virtue of being born, and declarations like, "I come from the power, but I am not the power." Strombo pitched Oprah some easy questions, and she reiterated the thesis of the night: "There is no difference from what I can do and what you can do," adding that the trick is to make money from your calling, whatever it is, but you have a duty to follow your calling either way. She didn't reveal the trick, but thousands of people, mostly women, surely came away inspired to figure it out for themselves.
Some, though, are "bummed" – to use the word Oprah tweeted about her disappointment that Hotel Mac didn't carry the OWN Network – that they didn't get to ask a question. So where Oprah failed, GigCity comes through with some Unasked and Unanswered Questions to Oprah, taken from real fans at the show. Nothing like good, old-fashioned streeters to gauge the pulse of a crowd. Guarantee: these are real.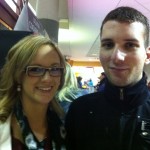 Q: "How do you have a bad day considering how much good you do for our world?" – Adrienne Bridgeman, Edmonton
Q: "What are you going to do with the rest of your life?" – middle-aged male who wishes to remain anonymous
Q: "What do you think of Edmonton?" and "What's your favourite place in the world?" – young couple Devin Thorpe and Ashley Doughty, Edmonton (right), risking opposite answers.
Q: "Would you come to the grand opening of my store?" – Carrie Langevin, owner of Mother Earth Essentials, a Body Shop-like store opening in April.
Q: "Why would you adopt children in Africa and not parent them?" – anonymous female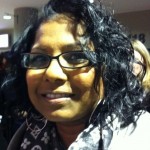 Q: "She inspires me. She's come a long way. I wish I had the energy, strength and courage to accomplish what she has." – which really isn't a question, from Shelley Hanon, Edmonton (right)
Q: "What has kept you motivated all these years, through all these tears, trials and tribulations?" – Kristy Caputo, Edmonton
Oprah at least answered that last one.