CONCERT REVIEW: Amy Grant show a musical Pentecostal service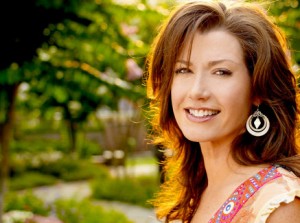 A full moon hovering over Shaw Conference Centre during Amy Grant's performance at Break Forth 2013 brought no portents of imminent danger – and for a non Christian attending a Christian music concert, it was a new experience.
This wasn't your usual rock concert. After years of going to heavy metal shows, I was allowed walk in right in without being screened by security and frisked for knives or drugs. If I would have known it would have been that easy to get in I would have brought the homeless guy sitting at the top of the stairs down with me. In place of a beer garden, there were more bleachers packed with respectful, polite, well behaved people. There were no smokers standing at the smoking doors. Not a single one.
Grant's "opening act" wasn't a band, but a man – a fellow sharing how he became a foster parent to some kid in a third world country. He said he cancelled his cable to do it, and told us we should do this, too.
If this is how Christians behave before a show, how are they going to be right in the middle of the action?
The place was pretty full and predominantly white, upper middle class, and well dressed. These groups of Christians looked like they had a lot of money. If this was the United States and I was a Democrat, I would have been very afraid to walk into that room. It was also very young too. Apart from the dude across from me with the feathered parted straight down the middle 1983-called-and-it-wants-its-hair-back-style, the oldest person at the show was Amy Grant's drummer.
The area in front of the stage was filled with mostly twenty-something, very respectable looking, well dressed and attractive young women. Single men, heed my words: if you keep catching tires on plenty of fish, you might want to tough out a service at your local Baptist church next Sunday morning.
Fans were stoked in a way only Christians could be; they were pumped to praise the Lord in song and immediately got on their feet as Amy Grant took the stage for a nearly 80 minute set. There was no mosh pit, and no persistent wafts of marijuana smoke – again, not your usual rock concert.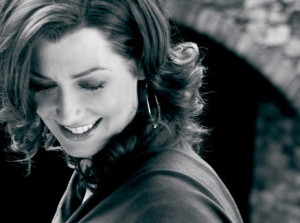 The 52 year old singer from Nashville, Tennessee, in her 36th year of performing music, looked vivacious and energetic in a black pants and a sleeveless red blouse. A muddy sound mix off the top seemed to have been fixed for Grant's second song, "You're Not Alone", from 1991's "Heart In Motion" album, and showed off her very sexy, sultry, smoky voice. Is it OK to say that? She is the female Mark Lanegan, minus the alcohol and heroin addiction. If there is any musical justice, someone will call him up and ask him to find Jesus so he and Amy can do an album together.
The show was fairly middle of the road in song selection, but the considerable instrumental talent in her backup band stepped forward throughout the evening to show off their evident chops, especially the unfortunately-named guitarist Pat Buchanan. No, not that Pat Buchanan, thank God.
The fourth song, "Anywhere With Jesus," Grant prefaced with a personal story about her family and the role music played in her Tennessee upbringing. The song had a good time groove with a bit of a Cajun rhythm and while Grant played it with pizzazz, but fans who were standing sat down in droves. Of all the gospel songs Grant played this night, it was the most non-traditional sounding, despite lyrics like "Anywhere without Him dearest joys would fade, anywhere with Jesus I am not afraid."
The audience saved most of their praise for the safer, bigger hits – like "Baby, Baby," which caused fans to erupt in cheers and arms reaching for the sky for the 1990's bubble gum delight. The biggest response came with Grant's most popular '80s gospel hits Lead Me On, Thy Word, Sing Your Praise To The Lord, and El Shaddai – the latter featuring a Calgary violinist Grant had just met that day and invited on stage. There were more hands reaching for Heaven in what amounted to a musical Pentecostal service.
This was no Axl Rose show, and the festivities drew to a successful close around 9:05 p.m. After all, this was a school night.
It was oddly refreshing to attend a show and not be surrounded by boorish louts hopped up on courage in a can engaging in all kinds of trashy behavior, something that's just expected at rock shows. The full moon may as well have been blue for how often that ever happens – until Break Forth 2014, of course.