THE UNLIKELY COMIC: Craig Martell is his own punchline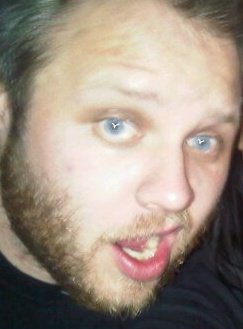 Craig Martell doesn't claim to be a real stand-up comedian – so does that make him a better stand-up comedian? It's all so terribly confusing.
He doesn't fit the usual stand-up comedian profile.
First of all, as co-owner and party captain of the Wunderbar Hofbrauhaus, he's a pretty upbeat guy. "It seems like most comedians are miserable, but I'm not miserable, I'm really happy," he says. "I live a happy life that has these little bleak moments that are fun to exploit."
He's never played Yuk Yuk's or any other "real" comedy club, sticking mainly to area hipster venues such as the Black Dog and, of course, Wunderbar. He says he never performs unless he's asked because he doesn't believe he's a "real" comedian. He claims he never writes or prepares a single joke ahead of time, on paper or in his head. He walks on stage and starts talking, and people just start laughing with him. It's a gift.
"Being conversationally funny has served me well," Martell says. "So before I do a show, I text my friends and ask them which jokes of mine they thought were funny. And they'll say, 'well, I can't remember.' So I make up new ones."
Martell only been at it for about year and already he's making a comedy album – a live split recording with friend and mentor Jon Mick happening Sunday, Feb. 3 at, you guessed it, Wunderbar. The release is planned for April. He pre-empts the obvious criticism by doing it himself, "After a year of doing comedy half-assedly, not even working hard at it, and to be releasing a CD, I really have no right to," Martell says. "But fuck that! There's bands that get together and a week later they're recording an album."
A lot of these bands play the Wunderbar, which is the running to be the new Sidetrack Café – a cool place where cool people hung out to watch cool bands. Before it died in 2007, it was the one rare place where Edmonton's music scene could come together. Key word: Cool. "The Sidetrack was a legendary vision in my mind," says Martell, though he wasn't around to see it. "Everyone who was into music at that time talks about it."
He has the same goals for Wunderbar. The 32-year-old comic was originally an insurance broker from Halifax, but he says what he really wanted to do is be a bartender. He came all the way to Edmonton to realise his dream in the (alcohol) service of others, had no trouble getting work when the mini-oil boom came and wound up buying the club with two partners five years ago.
"I honestly believe that it could be something like the Sidtrack where people will be talking about it 20 years from now, even if we're not around," he says. "It's shocking how many people really care about it."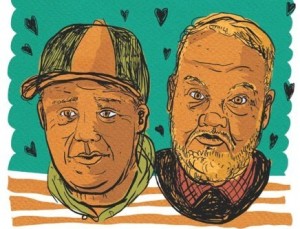 He says he was talked into doing stand-up comedy by Mick. These guys are such good friends that they eat sandwiches together almost every day, Martell says – hence the working title of their split CD: "Beef Dip Tuna Melt" – consumed over no doubt scintillating conversational humour. They even considered doing podcasts of their daily luncheons, "but it hasn't come together because we haven't got the ambition to buy a microphone."
Spoken like a true renaissance slacker who apparently does nothing but have fun all day yet somehow seems to accomplish a lot. There are a few people like that around Edmonton. On the prospect of forming a comedy duo with Mick, he quips, "Like the modern, fatter Wayne and Shuster?"
Yes, exactly.
Martell possesses one trait crucial to successful stand-up comedy – he is immune from embarrassment. He recently lent his voice and true story to this amazing web TV show called Felt Up, where humiliating sexual secrets are discussed and then acted out with puppets. Martell talked openly about a girlfriend who was into "ass play," and she wasn't referring to her own. The series, created by local designer and filmmaker Simon Glassman, premieres on Bite-TV in April.
Martell says he has no qualms about revealing stories that involve anal beads, and discovered his predilection for finding humour in his own personal, raw, unedited truth when his mom started reading his blog. One entry she called him on: "'I took acid last night and went home with an ugly girl,' – oh, shit, but oh, well, the worst has happened. If my mom knows it happened, now I can say anything I want," Martell says. "My comedy is very personal. My Facebook, which is open to look at for anybody, is also very personal and very funny, I'm told. I think I fit very well into this era. I'm very comfortable being that guy who gives too much information."