OPERA: A carnival named desire in Les Contes d'Hoffman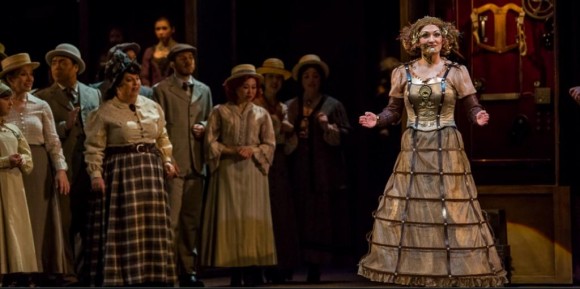 This Hoffman is one messed-up dude.
First he falls for a chick who's clearly a robot and only finds out when her arm comes off. Then he falls in love with a woman who's so frail she sings herself to death, then with some floozy who leaves him for a cowboy the moment his back is turned. Or maybe it's three women in one, who just happens to be named "Stella!" No wonder he drinks so much.
Ah, but of course it all sounds so much more elegant in French, no? – sung by the redoubtable talents of the Edmonton Opera company in their inventive production of Les Contes d'Hoffman by Jacques Offenbach. It opens Friday, Feb. 1 at the Jubilee Auditorium.
The story begins and ends with a big drunken blow-out, as we join a bunch of off-duty 19th Century carnies gathered behind the circus tents. Thanks to designer Camellia Koo and director Joel Ivany, the steam-punk carnival set and period costuming is a fun new wrinkle to the 162-year-old opera, now populated by freak show geeks, bearded ladies, stilt walkers, acrobats, strongmen and so on. They're all gathered to drink and cajole their friend Hoffman – whose role in the circus isn't clear – into once again telling his sad, sad story. A few more drinks after much singing about "beer and wine," which can't be a good combo, and he relents.
Thus ensues a fantasia of strange and inexplicable events weaving euphorically through one love story gone bad after another. It makes for one of the more psychedelic experiences one can have at the opera, which is already a pretty surreal art form.
The stories were originally written by the titular E.T.A. Hoffman, who also wrote "The Nutcracker and the Mouse King," so obviously he was on whatever the 19th Century version of LSD was. Laudenum, maybe. He and Lewis Carroll lit up together.
Offenbach's "contemporary" classical style, meanwhile, helps create the surreal atmosphere, full of twists and turns into and out of atonality, from consonance to dissonance, from French horny blats to shimmering strings, with lots of vocal cadenzas, jaunty and bouncy yet sinister all at the same time. The music is beautifully rendered by the Edmonton Symphony Orchestra and the dozens of gaily costumed singers in the chorus on stage.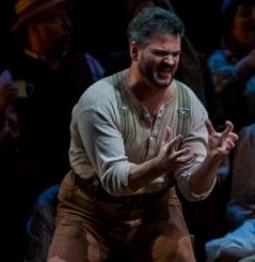 There are many stand-out performances from this nearly all-Canadian company. Tenor David Pomeroy (right) is solid as Hoffman, while the amazing soprano Teiya Kasahara (top picture, right) is the comic highlight of the night as the "automaton" Olympia, making fun of operatic conventions while singing the hell out of them at the same time. It's a scene right out of Bugs Bunny, and there's a famous Offenbach piece you may recognize from the cartoons later on.
Like most operas, it's not always easy to figure out what's going on, even with English surtitles – but it becomes clear at least that all of the poor guy's problems can be blamed on Satan. Figures. The Dark One shows up throughout the show in various guises. At one point, looking like an evil Dr. Emmett Brown from Back to the Future, he shows off a sample case said to be stocked with "living" human eyes.
Scenes take place in laboratories, inside freak show tents and in the shadowy back alleys of the mysterious carnival, where Hoffman gets played like a puppet on a string. He sure can pick 'em. You start to feel sorry for the guy, wonder if he's been hanging out with the wrong crowd, or what he did to get Satan or all those women messing with him. Not all is made clear – but hey, if operas wanted to be literal, they long ago would've been sung in English. So whatever Hoffman the Opera lacks from being lost in translation, it more that makes up for with wit, style, elegance and especially the last singalong line that has been the soothing balm for many a broken heart: "Let's get drunk!"
Les Contes d'Hoffman also plays Sunday, Feb. 3, Tuesday, Feb. 5 and Thursday, Feb. 7. Tickets on sale here.