WEEKEND MUSIC: Method to Madness to Muse
Posted on January 31, 2013 By Michael Senchuk Entertainment, Front Slider, Music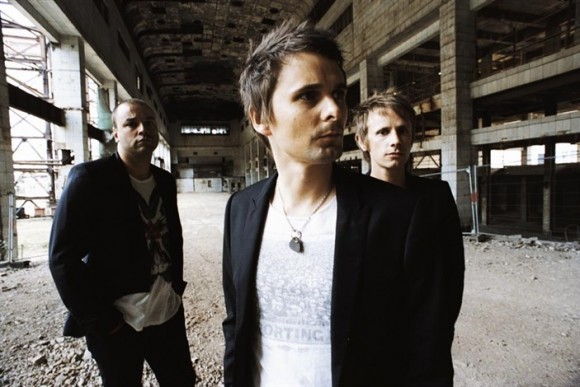 You'd be hard pressed to go almost anywhere nowadays without hearing "Madness." At least the song. Muse's new track from their most recent and sixth studio album, "The 2nd Law" is getting huge airplay in this city. The supporting world tour comes through Edmonton Sunday night, when the band will perform at Rexall Place.
It's easy to hear how the English trio is heavily influenced by Queen and other UK arena bands such as U2, especially over the later albums when the act has started performing in arenas themselves. In fact, on a few songs, including "Madness," if you close your eyes you can almost imagine Freddie Mercury singing it. Muse has played around with some other sounds and influences though, too, including more spaced-out tracks like "Knights Of Cydonia," and a lot heavier rock such as on the earlier "Stockholm Syndrome."
Fun fact: Frontman Matt Bellamy's father was a guitarist in the 1960's surf band The Tornados, which was the first UK band to score a No. 1 song in the United States. Muse hasn't managed that feat quite yet themselves, though have managed to garner that top spot on the nation's Alternative charts a few times. Like Mercury, Bellamy studied piano at a very young age (six years old) and is an accomplished vocalist, using falsetto and vibrato like few can in today's rock world. Freddie would be proud.
While their early works never really took off here in Canada, Muse first started receiving significant airplay in 2006 with the album "Black Holes and Revelations." They endeared themselves even further to Canadian rock fans in 2009 with the song "Uprising", possibly their biggest hit to date, and a string of well-received arena dates to follow.
Tickets to Sunday's show are $39.50 (plus service charges), on sale here or at the door.
Friday
Whitehorse – This Hamilton folk duo is comprised of Melissa McLelland and Luke Doucet, who married in 2006 just as both were achieving significant success as solo acts. They continue to record and perform by themselves, but also very much enjoy coming together to fuse their love for music. The result is pure magic, on a level that even Harry Potter would be proud of. Without the wands, of course. Myer Horowitz Theatre, 8 pm, $32.50, tickets here.
Jordan Norman – This Edmonton artist combines a deep love of a bevy of different sounds into his captivating tunes. If you listen closely you'll hear just as much folk as you will grunge, indie rock just as much as unplugged singer-songwriter. Always a treat, and this evening marks the release of a new album. Artery, 8 pm, $10, buy.
Saturday
Alex Vissia – If it's been a while since you checked out this local artist, or you have yet to, shame on you. The uber-talented alt-folk singer-songwriter will be performing at the Black Dog Freehouse Saturday afternoon. No cover – and no excuses. 4 pm.
Ripperz – This Winnipeg act is touring to support their recent album "You Are the Moon." The title track is a wistful folk tune that turns into a party-stomping journey into pure rock 'n' roll. Well worth a look. Haven Social Club, 8 pm, advance $10, buy here.