REVIEW: Jacksons all about the groove, the love, in Edmonton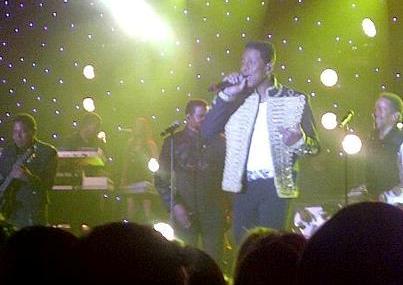 The Jacksons showed us the love at the Edmonton Chamber of Commerce Ball on Saturday night – a slick, polished show, yet with lots of heart.
The annual soiree at the Shaw Conference Centre began by having that big show feel, backlights coming up slowly to reveal two sets of two keyboards, drums, bass, big percussion set up, two guitarists on either side, and two scantily clad bronze beauties on back-up singing and dancing.
The music rolled out and the tension built. By the time The Brothers have made it out to the front line of microphones, that was it – we were hooked! This was big league stuff. It works – and these cats know how to do it.
The set list jump started with "Can You Feel It", and most of all the middle aged crackers are on the floor are lovin' it as the hits are pounded out, "Blame It On the Boogie" and "Rock With You."
Choreography has always been big part of the appeal of the Jacksons, and they're still going strong as they're pushing 60, some of them from the other side. Jermaine (58), Marlon (55), Jackie (62) and Tito (59) danced almost non-stop for two hours with skill and energy that put most people in the biz to shame – never mind those half their age.
And when all the Brothers sang together – wow! So good, so soulful. The band was fabulous. The music was all about the groove, all the time. There had been no solos until halfway through, but then they gave the band some, introduced 'em and let 'em go. The first guitar solo, it was if they told their guitarist "You got this many bars to go from Prince to Eddie Van Halen." So he did. All of the band members all made the most of their solo time, strutting their stuff with style.
There were a number of complaints about the sound mix, including from some of the Jackson brothers themselves, who appeared to be having monitor problems, but in the end it didn't matter. The band was so good and Jermaine's falsetto so heavenly that you didn't care. It really was one of those special nights were nothing mattered but the music.
They paid homage to their late brother Michael Jackson, did some ballads, and then told us we probably wanted some old stuff. Oh, how well they know us! They killed on the Jackson 5 Medley: I Want You Back, ABC, The Love You Save, and Never Can Say Goodbye killed. So did the last tunes "Wanna Be Startin' Somethin'" and "Shake Your Body Down to the Ground."
This band of brothers did their first gig in 1967, and they have not toured in 30 years. You'd never know. They know how to perform and how to connect with the crowd.
(Photo, above, by Jade Patrice)