CONCERT REVIEW: Derivative Muse bombards the senses
There are plenty of adjectives one can use for Muse's show at Rexall Place on Super Bowl Sunday: Bombastic, pretentious, overwhelming, dazzling, even stupefying – but in a good way. It was a fierce bombardment of the senses, a visual extravaganza that overloaded your auditory and visual faculties to the point of no return.
The band was pretty decent, too. Muse is nothing but a solid and substantial live act, three great musicians (with an additional keyboard player) who can keep things chugging along at a frenetic pace, creating a blitzkrieg of sound that other bands would kill to have.
Lead singer and guitarist Matthew Bellamy is the obvious heart and soul of Muse, a consummate frontman with plenty of charisma to throw around. Sure, many of his actions were typically overused frontman movements – dropping to his knees from time to time, throwing out a couple Jesus Christ poses, singing with his guitar slung by his side. But Bellamy was so earnest in his delivery, so captivating, that he easily pulled it off.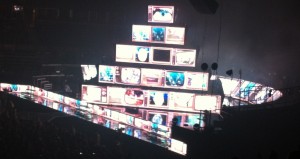 In fact, he is so charismatic onstage that he completely outshines the other members of the band. Bassist Christopher Wolstenholme and drummer Dominic Howard seemed to fade completely into the background. Of course frontmen are supposed to be the most visual member of the band, but you still are drawn to the Edge when Bono sings, or to Keith and Charlie when Mick is jumping around.
Even when Wolstenholme took over the lead vocals during Liquid State, he was so static and passive that one's eye drifted over to Bellamy who was hanging out on the drum riser.
That said, for the band's second appearance in Edmonton, it was a quite a spectacle and no doubt many of the about 10,000 at the show went away happy. The only problem with the whole thing, and this is a typical complaint about Muse, is their overall sound. Muse is very popular, considered one of the biggest bands from the UK at the moment, and there's really nothing wrong with that. But their songs are so derivative of other world-class bands – U2, Radiohead, Depeche Mode, Ultravox, Queen, even old Supertramp at times – and that can't help but add a bit of a shadow over the bright extravaganza Muse tries to create.
Opening act Band of Skulls is also obviously influenced by other bands, groups like The White Stripes, Sonic Youth and the Vaselines. But they have managed to chart out their own sound, showing that there's a major difference from being influenced and being derivative.