WEEKEND MUSIC: Marilyn Manson show will go on!
Posted on February 7, 2013 By Michael Senchuk Entertainment, Music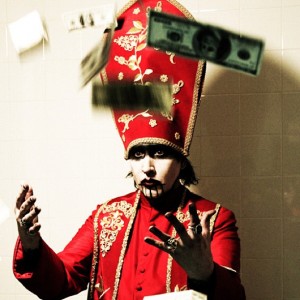 There is no official statement yet, but it looks like Marilyn Manson is going to be OK following his collapse on stage in Saskatoon Wednesday night. Saturday's show in Edmonton and all remaining shows "will be moving forward as scheduled," according to the concert promoter.
You know, it's always fun and games until somebody loses an eye. For all the flack this guy gets and how much people have made fun of him over the years, at the end of the day Marilyn Manson, aka Brian Warner, is just a frail human being like everyone else. It takes an incident like this to really bring it home. Manson was in the middle of the encore, The Beautiful People, perhaps his best known song, when he keeled over. Some reported that he vomited. There is that flu going around. Also, it was reported that he ordered eel at a recent dinner. Whatever happens, Edmonton fans wish him the best – and that he be in top form for a highly anticipated show. No pressure.
In nearly 20 years since his acerbic, sarcastic debut album "Portrait of an American Family," moving lithely between various sub-genres of metal and hard rock throughout his musical career, Manson managed to shock almost everyone. He called himself "A poster boy for fear" in "Bowling For Columbine," in response to being blamed by some for the tragedy.
Several of his music videos would easily be in a list of most disturbing of all time, the most memorable of which were back in the days when you could actually see them on television, on whole channels devoted to music videos. "(s)AINT" is perhaps the most twisted of all, replete with images of self-mutilation, cocaine-snorting, blood-smearing and bondage. "The Beautiful People" is another potential award-winner, with the band performing in a classroom-like setting with medical prostheses and laboratory equipment. Finally there's "The Dope Show," where Manson appears as an androgynous extraterrestrial with prosthetic rubber breasts, and is then captured and studied in some type of crazed lab.
While the era of the music video has faded away to the era of YouTube, so too has Manson's penchant for songs that grab society by the throat and shake it until it can't be shaken anymore. That doesn't mean, though, that his fans haven't loved everything he's done over the past decade, and will continue to be rabid supporters. For good reason. Manson is not only an incredible songwriter and exceptionally talented musician – he can play the guitar, bass, keyboards, harpsichord, drums, and flute among other instruments – he's also gifted in many other pursuits, including film, television and the visual arts. He describes himself on his Twitter page: "Creator of pharmaceutical eyeshadow. Hater of harpies and nincompoops. Cat owner."
Get well soon, Marilyn Manson. Stay away from the unagi.
He visits Edmonton this Saturday at the Shaw Conference Centre. The show is nearing sellout, but advance tickets are still available here.
Friday
Jully Black – This Toronto-born R&B singer-songwriter has had a number of tracks hit the Canadian charts, including "Rally'n" in the late 1990's, and more recently "Seven Day Fool." She's had the blues a few times in her career as well, as a debut album on MCA scheduled for 2003 was shelved when they folded. She's also performed in plays through the years, including a production of "Da Kink In My Hair" in 2005. Its success sparked a television show, for which Black sang the theme song and made a couple of cameo appearances. Festival Place in Sherwood Park, 7:30, $39.25 (includes service charges) and up.
Cara Luft – Since departing the famed folk trio The Wailin' Jennys, this Calgary-born artist has been on tour to support her third album, much of it was recorded in and named after the tiny Manitoba village "Darlingwood". It's so small it only has one postal code (R0G 0L0, if you're curious). The album can be heart-wrenching at times. The talented singer-songwriter broke up with her life-mate, who was also supposed to engineer and co-produce the album, just before recording started. Haven Social Club, 8 pm, $15.
Humans – This duo from Vancouver is always popular whenever it comes to Edmonton. Frenzied blending of electronic components with live vocals and instruments creates an almost dream-like state for the audience. Kusch opens. Wunderbar, 9 pm, $15.
Saturday
Incura – Inspired by theatre but remaining strongly in the hard rock sphere of influence, this Vancouver band prides itself on grandiose arrangements featuring the incredible falsetto voice of its lead vocalist. Definitely worth consideration, though a lot of their target audience may be at the Manson show. Needles To Vinyl, Looking East, Fair Blue and Matt Machete also perform. Pawn Shop, 8 pm, $10.
Mayday and the Beat Creeps – This unique local band, releasing their debut EP "We Are Little Volcanoes" this very evening, is an intriguing and brain-teasing compilation of folk and hip hop influences. kickupafuss and The BlackStone open. The Artery, 8 pm, $10.
Sunday
Matt Blais – This Calgary rock artist is hosting a release party for his debut full-length CD, which moves wistfully amongst his influences, mainly folk and soul, in a moving journey that will surely captivate listeners. On the Rocks, 9 pm, $5.