ART: Nothing Earth shattering at Biennial exhibition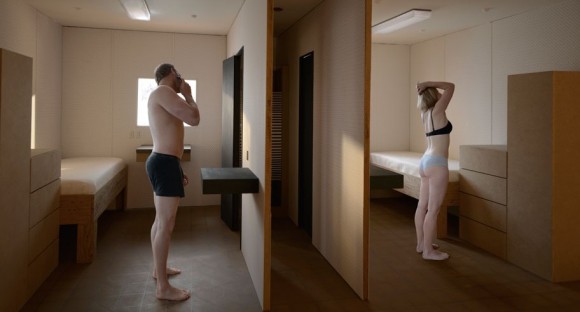 As amusing and sometimes inspiring as it is, don't expect breakthroughs in "new" art at the 2013 Alberta Biennial of Contemporary Art.
It tries to be contemporary. As soon as you enter the foyer of the Art Gallery of Alberta (AGA), you're served the message: "This isn't going to be your parents' art exhibition." The huge feature wall beyond the entrance desk looms large as a screen for Alysha Creighton's digital video entitled "Ascension" – and there are more such multi-media works on display through May 5.
Initiated in 1996, and mounted every other year, the biennial is in its eighth incarnation as a representation of Alberta's art scene. This assembly is the output of 36 Alberta artists and filmmakers gathered by long-time Calgary art critic and curator Nancy Tousley. The common element is "digital," which is hardly a new concept in making art. It's been around since there was such a thing as digital.
Tousley uses "News From Here" in the title of the exhibit, but while the term suggests a journalist's observation of an event or situation, the participating artists focus more on personal stories. The offerings Tousley have selected are much more about the artists' opinions, rather than what is depicted through figurative or abstract media. Not only that, but they're the curator's take on what is worth sharing about the Alberta art scene.
New technology and all that it enables drives the collection. Almost all the pieces are digital in origin, or output, and few of them would be seen in a home (or fit in one). Animation, sound, and other recording media are so affordable these days, and Tousley has embraced the artists' impressions of their world and what's important to them.
Trevor Anderson's 25-minute musical "The Man That Got Away," which has already made the rounds of the world's film festivals, including the Edmonton International Film Festival, is based on his great uncle Jimmy – a gay, small town kid who went to Broadway and wound up befriending Judy Garland while the two were in a rehabilitation facility. It is a personal story.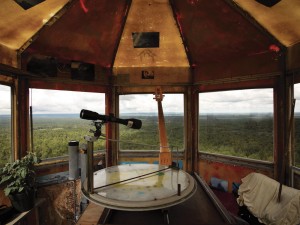 Some of the works are engaging by virtue of sheer scale. "The Wood and Wave Each Other Know" by Jason de Haan and Miruna Dragan (right) covers a wall with a panoramic view from a fire tower. The camera rotates in the middle of the tower, showing the surrounding vista, as well as a cellist playing a slow piece (that also serves as a soundtrack) who comes into view once on each rotation.
With the exhibition so focused on personal statement, there is a certain irony in the choice of "News" for the title in the birthplace of Marshall McLuhan, who coined "the medium is the message". We're talking about an exhibition with nary a paintbrush in sight and the conceptual origins are as important as the execution.
If the approach sounds terribly cerebral, it's because it is. At the same time, it can bring particular pleasures – a good example is Robyn Moody's "Wave Interference," an undulating assembly of fluorescent lamps that emulate music from an adjacent organ that is as restful as it is mesmerizing.
Overall, while The Biennial is  an engaging visual romp through different approaches, philosophies and media, it is not a show that will knock your sensibilities out, as did the famous Armory Show in New York in 1913 – and it's worth noting that News from Here opened within a month of the 100th anniversary of that milestone show that introduced "new art" to North America.
(Top picture: Jack & Jill Room (morning), digital print by Kristopher Karklin)