REVIEW: Krall's sultry show all grace, no pretense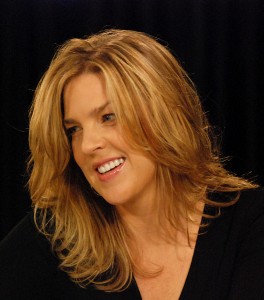 There's a realness about Diana Krall that can't be measured. Sure, she's a multi-platinum-selling, Grammy and Juno award-winning artist who happens to be publicly married to another multi-platinum-selling, Grammy award-winning, Rock and Roll Hall of Fame artist. Despite all that and more, there are no emanations of celebrity from her onstage.
Maybe it's the Canadian in her or what, but at her almost sold out concert the Jubilee Auditorium, Krall was down-to-earth and self-deprecating, funny yet serious, a true musical professional backed by a incredible five-piece band without seeming and sounding too professional. She made fun of her playing, laughed at comments and requests shouted from the crowd and told stories about her family. She even paused in the middle of a song to make fun of her marriage only to jump right back into the song without missing a beat.
And there was the moment, about a third of the way into the concert, when Krall's band left her alone on the stage. At first she seemed self-conscious to be all alone in front the crowd. But she quickly turned away from her grand piano and sat behind a more humble old upright.
For the next 20 minutes, she sat mostly with her back to the crowd, asking for and fulfilling requests shouted out from the audience. She laughed at some, responded that she couldn't remember certain songs and exclaimed an expletive when she felt she made a mistake while playing. She told stories about her Grandmother who plied her with cigarettes and Kahlua and Cream while regaling her granddaughter with stories about an old vaudevillian aunt.
It was in those moments when Krall turned the Jubilee into the biggest yet most intimate piano bar in the world. All that was missing was a giant brandy snifter where people could pop in tips. She could have gone all night like that and no one would have complained.
In fact, it would be fantastic to see Krall play an entire show like that. She may be the sexy blond jazz singer with the sultry voice, but she also has the presence and the piano chops to pull such a thing off.
And while there was a bit of disappointment to have the band come back and share the stage with her, that feeling quickly abated. They jumped back into the groove as Krall delved into a nostalgic line of blues, jazz, and country standards (including a nice rockin' version of The Band's Ophelia as a tribute to the late Levon Helm), capping the show with a sublime version of Tom Waits Temptation followed by the closer, Jimmie Rogers' Prairie Lullaby.
It was a quiet end, no strobes, no pyros, but it was the perfect conclusion to a memorable night.