Nude burlesque show canceled for lack of exotic dance permit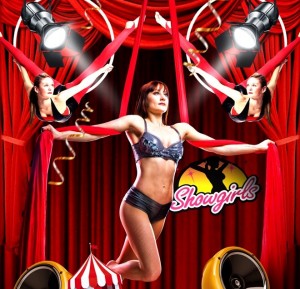 The line between art and erotic entertainment appears to be as thin as the pasties covering the performers' nipples.
A nude acrobatic burlesque show called Cirque De L'Erotique that was supposed to have taken place this weekend in Edmonton has been cancelled because promoter Jade Janvier doesn't have an exotic entertainer license – "despite the fact I am not performing," she says. According to local bylaws, the permit is required for any person "who charges or receives a fee for a nude or semi-nude performance."
The so called "burlesque" shows that are all the rage these days may have semi-nude performers, but since they are generally done by theatre people using semi-nudity in a theatrical context, they don't get bothered. Cirque De L'Erotique was singled out because it was to take place in a real stripper's club, Showgirls – which is always under close scrutiny from the authorities, says manager Richard Fletcher. Moreover, he says, the performers in the show are exotic dancers who have worked at Showgirls before.
"Strippers fly in the face of the whole burlesque show idea because burlesque is more about real women doing shows," Fletcher says. "I don't think there's a lot of burlesque dancers with fake breasts. It's a different sort of clientele and a different kind of show."
Janvier, via email from Australia, where she used to be based (and was named Miss Burlesque Australia in 2012), says Showgirls originally approached her to mount a show after seeing her burlesque show "Tease 'n' Tassels" that happened in December at the Avenue Theatre.
"They wanted to bring a new energy to Showgirls, but I didn't think a classic burlesque show would be appropriate for the venue," she says, "so I came back with the proposal for Cirque De L'Erotique. Showgirls regularly features performers who are skilled in the circus arts – so the set up with a large stage, poles and aerial apparatus was perfect."
Local playwright and performer Ellen Chorley, director of Edmonton's Send in the Girls burlesque troupe, makes the distinction between strip shows and burlesque. The latter is meant as "satire" where nudity isn't the goal, the former as "pole dancing and taking off of clothes." Having attended one matinee at Showgirls to research the art of pole dancing, Chorley adds, "Do whatever you want with your body. It doesn't hurt anybody."
On the question of possible complaints from Cirque du Soleil – which produces the "adult" show Zumanity that features topless performers, Janvier responds, "I'm not comparing this small event to their incredible shows – I'm just inspired by Cirque du Soleil, their production values and amazing performers."
The irony of the situation is that strippers belong to the same legacy of the burlesque girly shows of yore, and was "originally about teasing and pushing boundaries right to the edge of the law – hence the invention of nipple tassels," Janvier says. "As people became less conservative, so did the shows."
Now we have two different worlds – and one thwarted attempt to bridge them together.