Bruno Mars announces world tour: Edmonton in July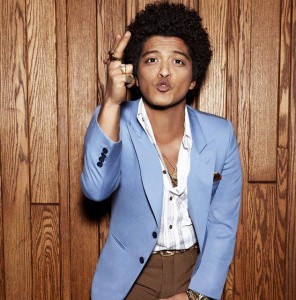 Bruno Mars has revealed the dates on his extensive Moonshine Jungle World Tour behind his second studio album "Unorthodox Jukebox" – which will include Edmonton, at Rexall Place, Thursday, July 18. With British singer-songwriter Ellie Goulding opening the show, the ticket on sale date will be announced shortly.
Mars, aka Peter Gene Hernandez, is considered one of the finest singers in pop music today, blessed with a killer combo talent of Sam Cooke and Sting – the latter comparison helped by his recent Sting-like hit "Locked out of Heaven."His new single "When I Was Your Man" has also shot directly into the top-10.
Mars came to mass attention in a big way in 2010 with his first album "Doo-Wops and Hooligans" and particularly a song called "Grenade," basically a list of trials and tortures he would endure for his one true love. The 27-year-old Hawaiian-born artist writes and produces his own material, and has co-written a number of hits for others, including "Wavin' Flag" by Canadian rapper K'naan, and Gym Class Heroes singer Travie McCoy's big hit "Billionaire" – as in "I want to be a billionaire so frickin' bad." Mars could get his wish at this rate.
Pretty much everything this guy touches turns to gold. Or make that platinum, at least.