Zebra Pulse too weird for punk rock?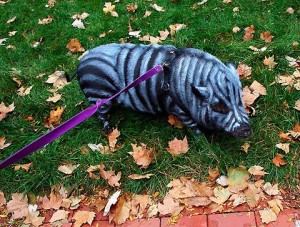 For the last five years, Zebra Pulse has been making noise. Thanks to an arsenal of pedals, processors, cassette players, turntables and anything else that can generate a racket, the group has been a regular fixture at such places as Bohemia and Wunderbar where fans can indulge in their ear-bleeding nuances. Zebra Pulse has become the most recognizable act in Edmonton catering to the "noise" genre, a growing movement in North America and Europe that eschews music as most people would know it in favour of sound that's distorted, atonal and above all, loud.
But recently, the static and feedback surrounding Zebra Pulse lately has been over what the quartet did NOT do, namely opening up for SNFU singer Mr. Chi Pig for a Thursday, Feb. 28 engagement at Filthy McNasty's.
Band member Parker Thiessen got word earlier that day the club pulled the plug on Zebra Pulse's appearance at the Pig event, which also included punk act Nervous Wreck.
"We were told that we were too weird, and that it's an experimental band," said Thiessen. "They didn't want to scare away the patrons because it's a punk show. They don't want to ruffle the feathers of folks who went to see Mr. Chi Pig."
Thiessen had responded by placing two postings on Facebook, one via Zebra Pulse's Facebook page, with the header "Punk bar my ass" followed by another posting on his personal page showing off a middle finger gestured towards the Filthy McNasty's storefront. There are many "likes" and more than 50 comments supporting Parker's reaction. Even Edmonton Journal music freelancer Tom Murray weighed in on the dispute by dubbing Zebra Pulse as "officially the scariest band in Edmonton."
Upset as he was over the McNasty's decision, Parker admits being stoked over the support he's been receiving.
"I think it's kind of a slap in the face, but in a way I found it rejuvenating," he says. "I thought for a while we were going soft, because things have been going so well. We even got to be number one on CJSR, so it feels good that we can still piss some people off."
The management at Filthy McNasty's is certainly angry over the reaction, even accusing Zebra Pulse of trying to make some publicity hay surrounding the situation. One manager named Ryan said the group was never officially confirmed to play in the first place, despite an original Facebook event that had the band listed in the lineup. When Ryan was able to listen to Zebra Pulse's music, he felt that the group's experimentation wasn't going to jibe well with Pig's acoustic set and deleted them from the bill.
"What makes me mad is that's this whole thing is putting a bad spin on the Chi Pig show," said Ryan. "It's now about a band causing a shitstorm because they can't play."
While he doesn't recall the Filthy McNasty's dedicating any of its nights to experimental acts, Ryan said he would welcome the opportunity to facilitate such an event if the timing was right. As well, Ryan admitted to some miscommunication between the club and the promoter over the lineup changes, but still deplores Zebra Pulse's actions and the claims that the club is against experimental music.
"It's a little immature," he said. "It sounds like a cry for attention, when you're missing the point."
For his part, Thiessen, who's calmed down considerably since receiving the bad news, found an irony to the no-show debacle.
He says, "It's the most publicity we ever got."