WHO NAMED THE BAND: Captain Tractor sails 20 years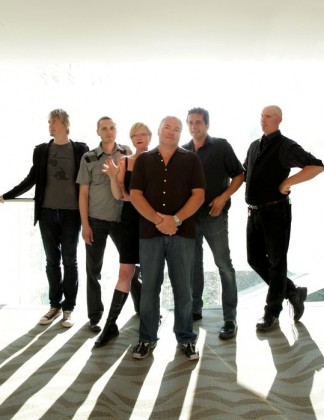 It's hard to be taken seriously when your band name is a joke.
"Captain Tractor" was coined 20 years ago by an actual comedian, one Neil Grahn, current TV guy and former member of Edmonton's legendary comedy troupe Three Dead Trolls in a Baggie. He was playing on the "superhero" idea for his friends, a group of local musicians frustrated they weren't getting anywhere in their various rock bands so on a lark decided to form a Celtic party band for free beer. Just for fun.
They still needed a name. The very idea of singing bawdy sea shanties in a city 1,000 miles from the nearest ocean was comedy itself. And so, Captain Tractor was launched well nigh two score years ago, sailing on amber waves of grain as they unfurled three sheets to the wind and heaved forth through the pirate-infested waters of the music business to landlocked ports throughout the vast Canadian prairies and beyond. Arr.
You see?
"There are certainly times in my career where I wish we had a bit more of a serious name – but I think I would've been wrong at those times," says lead singer Chris Wynters. With loyal first mates Scott Peters, Jules Mounteer and Jon Nordstrom, along with the relatively new members Jason Kodie and Shannon Johnson, Captain Tractor plays its 20th anniversary show this Sunday at the Cook County Saloon.
"It was hard, sometimes, for people to take you seriously," Wynters continues. "But it was who we were. We were fun, we liked to party, and we were from the prairies."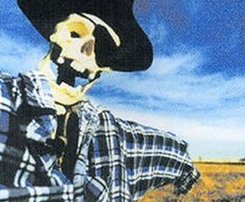 They played the joke to the hilt, employing a skeletal mascot that wouldn't be out of place in Pirates of the Caribbean, and once staged a press conference on board the Santa Maria in West Edmonton Mall, the most famous sailing ship in Alberta that isn't going anywhere. Their first album was called "Land."
The crew of the Captain Tractor have wavered little from their course in two decades. They were – and remain – a good time Celtic party band, sort of like Great Big Sea except without the proximity to an actual ocean and the mournful tales therein. The only real difference is that crucial top 10 hit on the radio.
It wasn't always smooth sailing for Captain Tractor. They were almost sunk by deadly attacks from – you guessed it – pirates.
Captain Tractor had put a lot of time and money into "Celebrity Traffic Jam," which may be its best album. Unfortunately, it came out in 1999 – when Napster was all the rage and the serious erosion of intellectual property had begun. All artists everywhere were in the same boat, so to speak.
Wynters remembers, "Our fan base was mostly university kids and they were the ones that were really into file sharing. And I remember doing that tour, it was the first time you could burn CDs, and there were guys coming up to me: 'Yeah, I loved your record so much I burned 10 copies of it and gave it to my friends.' We were really good at selling records, but that was the point where it all drained out. A lot of people thought, oh, it's just the big boys getting hurt. But it decimated the whole indie middle ground in Canada."
Despite selling more than 120,000 records, all told, Wynters says, and grossing more than $1 million, the net result was heavy personal debt for the band members. All that booty went straight down to Davy Jones' Locker. Morale was at a low-time low. Some, like co-founder Brock Skywalker, abandoned ship. Captain Tractor was only saved from being scuttled because of their own fortitude. As more independent recording artists amped up their touring schedule because they couldn't make a living selling records anymore, and because you can't download a live concert, Captain Tractor began to "play its way out of debt." After a while, when the band was shipshape again, they realized, "Oh, we like each other again," Wynters says. "It was a pretty rocky time. But now it's just fun."
Fun in the blood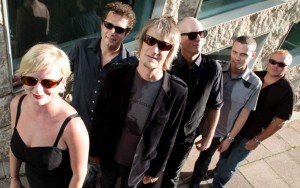 Captain Tractor's entire fun career calls in the whole question of authenticity. Can a gringo play Latin music? Should white guys be allowed to rap? Is it credible for a group of landlubbers from Edmonton to record songs like "The Drunken Sailor "and "The Last Saskatchewan Pirate" and keep a straight face? Let alone play on St. Patrick's Day for a "Shamrock Shaker" even though they're not Irish, either. Well, why not?
Like Great Big Sea (again), Captain Tractor is not above delivering a cornball anthem in the manner of a hot country hitmaker. Tractor fans have come to expect this sort of thing. They want to dance. The band has pumped out a number of rousing reels and jaunty jigs over the years. Even on the latest album, "Famous Last Words," there lurks a corny ditty called "Going to a Hockey Game." In contrast (like Great Big Sea), they pull a straight face and get serious in murder songs like "Johnny's Ghost." Wynters sings in a proud bray, "There were guns and drums and drums and guns, ha-roo, ha-roo," and so on; long story short, Johnny shoots his woman down before the song breaks into a merry jig in a minor key, which in the Celtic genre always heralds an untimely death. Johnny's Ghost likes to dance, too.
Wynters and his mates do not pretend to be anything they're not. The sound may be Maritime to the core, but the content is local. They don't write songs referencing Peggy's Cove, they talk about "Jasper Avenue" and "East of Edson." Wynters may have been born in London, England, but he's a prairie Canadian through and through. Since the near-fatal run-in with pirates, he's found a sweet job as executive director of the Alberta Music Industry Association (AMIA) – where he works to keep fighting the pirates – and on top of it is a musical theatre guy whose influence is clear in Captain Tractor's music. The seeming triviality of some material may be off-putting for some serious folk music fans, but the trait has never been hidden or compromised. Nor has the band's sense of irony.
"Absolutely we're doing it ironically," Wynters says, "but a lot of the tunes we wrote are like the tunes we grew up with. We're all Celts and Anglo Saxons, and a lot of that stuff is tribal music to me. It's still in my blood."