THEATRE: Kenneth Brown and Tim Hortons a marriage made in heaven
"We didn't know if Tim Hortons was going to sue us or adopt us," says Kenneth Brown on his new play set in Canada's favourite coffee shop. It's called – you had to see this coming – Double Double.
Timmy's people did ask to look at the script: a romantic comedy between two 40-something divorced parents who develop a relationship at the local Tim Hortons. Timmy didn't make any objection and has bestowed the traditional sacraments of approval: Free coffee and doughnuts for the first dozen audience members in the door. The lucky 12 will also find themselves on stage as customers in what appears to be an actual Tim Hortons.
"It seems they've adopted us," Brown says.
Directed by Michael Clark, the world premiere of Double Double runs March 21-April 7 at La Cité Francophone.
Brown needn't have worried, if ever he did, declaring he would've changed it to "Tom Hunkas" if they'd threatened to change a single word. This playwright is even more proudly Canadian than Tim Hortons. His work amounts to 35 years of Canadian heritage moments. Tims, meanwhile, is "the people's coffee." It's a match made in heaven – with Timbits on top.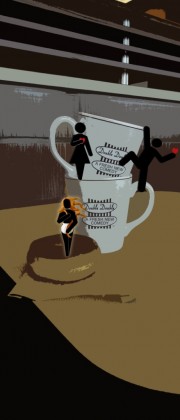 At the risk of playing into one of the most diabolically clever branding campaigns in Canadian history, this setting is important, Brown says. It's not just any romance in any coffee shop. It's no failed seduction over five dollar lattes to the tune of the Gipsy Kings and Bon Iver. It has to be Timmys. The Edmonton playwright still lives a block away from his old high school and has seen a lot of what he calls "middle Canadian" life unfold at his neighbourhood coffee shop.
"It strikes me that the cross section of the population who comes here is a lot of what the nation's about," Brown says. "It's not 30-year-olds on their laptops rewriting Canadian foreign policy. It's people on their way to work, emergency services workers, and cops and junior high school teachers and road workers. Those are the people I consider my people."
So Tim Hortons isn't merely a successful Canadian coffee franchise that offered, for the first time, an alternative to the "two beans in a kettle of dishwater" fare served by most Canadian diners throughout our nation's woeful history of caffeinated beverages. It's a cultural institution.
"I am keenly interested in the definition of whatever makes us Canadians," Brown says. "As I look around, Tim Hortons is one thing. The reason it's gotten into our heads is because everybody likes to go there. It's not just a commercial fact, it's a cultural fact … As someone who's interested in creating Canadian cultural artifacts, I can't ignore a phenomenon like that. Other playwrights basically write sitcoms based on their cultural experience of watching television a lot, and I don't. So that's how it is."
Like a lot of Brown's plays, if not all of them, Double Double is inspired by his own life. While writing and performing stories about his father's generation, about his aviator heroes, about life growing up in the Garneau neighbourhood, about hockey, he frequented Timmys quite a bit he was on the road. He and a former girlfriend who lived a long way apart used to meet there as often as possible, he recalls. This was her idea: "At one time she turned to me and said in a frustrated tone, 'You should write a play about this!' And I said, damn, that's a good idea."
Our fictional couple in question, Nell and Kevin (played by Linda Grass and Jon Paterson, with Liana Shannon as the waitress), are the throes of respective mid-life crises. They're single again, their kids are almost grown and out of the house and they're ready to test the waters of the dating world – exactly the same situation Brown finds himself in at the age of 59. His characters meet on Lavalife (another Canadian company) and proceed directly to chat over Double Doubles. At one point, Nell, too, grows frustrated and blurts out, "Why can't we have something better than meeting at Tim Hortons?!" If there was anything the coffee company's people would've objected to in the script, it would've been this, Brown says, but they didn't make a peep.
At least it's not Starbucks.