Marvelous Mumford in the merry month of May!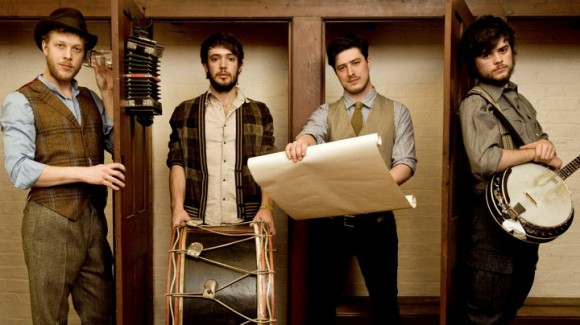 Ask and ye shall receive: Mumford and Sons are coming to Edmonton – and if you still think they're still just a bunch of Muppets, you haven't been paying attention.
One of the buzziest buzz bands in the world plays its first Edmonton show Wednesday, May 22 at Rexall Place, part of some fresh dates announced in support of the band's new album, Babel. Sonic radio, packed to the brim with Mumford and its folk-rock brethern, broke the "Earth shattering" news on Monday. Tickets go on sale to the general public on April 5, with a pre-sale already in progress.
If not the Earth itself, we could mark this show as the shifting of a rock 'n' roll paradigm – a landmark event that sees the first time since Earl Scruggs that the humble banjo has played such a prominent role in popular mainstream culture. As accordions and ukuleles before them, banjos are now hip.
Evidence is plentiful. Mumford's infectious brand of neo folk-rock goodness is threatening to take over the world, or at least, pop radio. Led by one Marcus Mumford, whose bandmates are not his sons, this British foursome scored huge and seemingly instant success on the strength of such uplifting Celtic hootenannies as "The Cave" and more recently, "I Will Wait." The first week sales of Babel – only the band's second album, released in October – were greater than even Justin Bieber. Others are following: the Lumineers, Fun, there will be more, and the message is clear: Bieber needs a banjo.