REVIEW: Rihanna a rock star at Rexall Place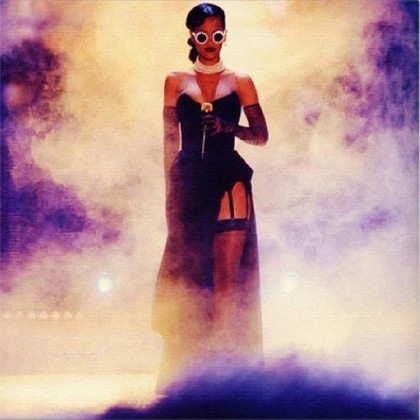 Rihanna would need the assistance of Iron Maiden to rock her way out of a wet paper bag – but she sure carried the attitude of a swaggering lifer to the hedonic world of rock 'n' roll excess at Rexall Place on Wednesday night. Led Zeppelin, Queen, Maiden, and yes, even you guys in Spinal Tap … have a seat, guys. A 25-year old Barbadian woman has copped your rock star schtick and is making a fortune selling to the 14 year olds of 2013.
A mainly female crowd was eating out of her hand for the entire evening. There appeared to be about 15 men at this show, mostly appearing to be supportive metrosexual boyfriends or fathers of gullible tweenagers.
Rihanna started schooling fans in the rock star style before the show even started, stealing a page out of Axl Rose's playbook by working up their desire – making them wait more than an hour after A$AP Rocky's rather boring opening set. Fans forgave Rihanna instantly when she finally did show up, forgetting about the incessant thumb twiddling they had been engaging in waiting for her to appear on stage. Like endless rock stars before her, she made up for her tardiness with her evident charm and popular appeal, artfully schmoozing fans with countless references to our fair city. You might feel special, Edmonton, but you know she's going to love Calgarians just as much.
Rihanna first appeared briefly in silhouette, clad in tight shorts, bra and black see thru camisole in front of tall white statue of Venus for "Mother Mary," her rather morose show intro, before cracking into "Phresh Out the Runway," off her 2012 "Unapologetic" Album. The hip hop tune turned into a thundering rave beat whose bass heavy tone rattling through the rink seemed a bit much. The issues with the mix early on in the set were worked out by the time Rihanna brought out her "Birthday Cake", an indubitably sexual yet clumsily worded song featuring such turns of phrase as "It's not even my birthday, but he wanna lick the icing off. I know you want it in the worst way, can't wait to blow my candles out." One thinks of Spinal Tap here.
Rihanna's set list really seemed to capture the breadth of her public life. While she sings about sex, love and relationships, she is not monolithic in her songwriting style, moving adeptly through the varied forms seamlessly. A number of moody and down-tempo songs ate up a big chunk of her set, the highlight of which were "What Now" and "Stay." She paid significant tribute to her Barbadian roots , starting with "Cockiness (I Love It)," which also featured some the greatest lyrics Spinal Tap never wrote, and sang songs in the reggae-dancehall Caribbean grooves of her home country. Fans were connecting, and sensing this. Midway through "Rude Boy," Rihanna demanded, "Are there any Rude Girls in the house?!" Like the the screams of musical rapture AC/DC gets during "Back In Black," Rihanna got the response she was expecting. There were indeed some rude girls in the house.
Rihanna, no dummy, knows she if she's going to try her hand at the rock star game she ought to be backed by an actual rock band, though it was hard to tell at certain points if they were even playing their instruments. When they did play – during Rihanna's wardrobe changes, mainly – fans got treated to several guitar solos. The bass guitarist with the pelvic thrusting moves looked the black Steven Van Zandt, while the guitarist with the shoulder length black locks looked like Trent Reznor circa 1995. So, in other words, Rihanna hired a band that can cover the major rock clichés. When time came for band introductions, the star did not refer to any of them by name, only thanking them anonymously for their help. She also thanked all the people who put the stage together – like Cleopatra showing the love to all of the anonymous slaves serving her vanity, how magnanimous of her.
Rihanna had to have been a fan of Freddie Mercury and Brian May of Queen as she worked the crowd like those Rock and Roll Hall of Fame regents, pacing her set very intelligently, teasing the fans, working them up before backing off, then artfully devising the crescendo towards musical climax with her well worn club hits of "We Found Love," "S&M," and "Don't Stop The Music."
She kept up the rock star style until the very end. Sadly, unlike Led Zeppelin, Rihanna had no epic encore showstopper like "Stairway To Heaven." For her encore she went with moody minor chord relationship-gone-wrong downer, "Stay," followed by the title track to her current album "Diamonds," a rather blase choice for an artist who has a lot of strong material.
Maybe there was another kind of climax to which we weren't privy, as it would not be very rock 'n' roll otherwise.