INTERVIEW: All but Bon Jovi, because they can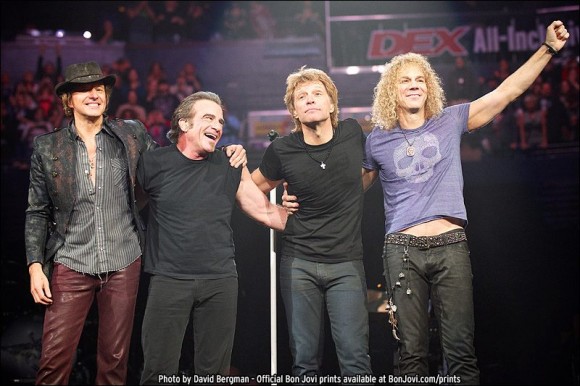 In the important work of journalism as the unofficial PR wing of the entertainment business, there is the dreaded "teleconference" – a great way for busy rock stars to polish off a big wad of interviews in one sitting. But do you get a good story? Hard to tell.
So it was with Bon Jovi in the run-up to band's latest tour, Because We Can, which comes to Edmonton at Rexall Place on Wednesday, April 3 behind the new album, What About Now. Along with media outlets from all over North America, GigCity was asked to participate for the Jan. 23 teleconference that included every member of Bon Jovi except for Bon Jovi. On the plus side, the management company was kind enough to transcribe the whole mass for us, all 9,000 words. The stories literally write themselves.
Here are selected (heavily edited) highlights – including all two dumb questions I managed to squeeze in:
Q from MSN: Hi, guys … I talked with Jon about 10 years ago and he was saying "we've got to slow down, this pace is too hard" … [but] you guys don't seem to have slowed at all … what's your stamina like for this kind of punishment?
Richie Sambora: Yes, he was basically lying to you, I think. Liars.  We're liars, I'm telling you.
David Bryan: … With every album we get better and with every tour we get better and it's fun, and we just keep going. I guess now really the Rolling Stones are the gate, so I guess we've got till 70-something, so we've got another couple years there.
Q from GigCity: We're very isolated up here [in Edmonton] and we don't get a band like you every day … can you feel it when you're in Edmonton, how special it is for us?
Tico Torres: A lot of times it feels almost like home. We've been in that area so much …
Q: Really? We have a chemical corridor just like New Jersey's …
Tico: Yeah, well not so much like that, but as far as the fans getting into the music and just, you know, and kind of coming back and supporting us all the time, it kind of feels like it's old friends.
Q from Last Word Features: … How did the [What About Now] album get started?
Richie: … Just having a very optimistic outlook in the songs is always very important. Even a song like the first single, "Because We Can," is a song of inclusion and also if you can help somebody, you should try to do it because you can. And sometimes it takes a village and that's because we can …
Q from Sun Media: … Do you feel in any way you're putting the cart before the horse – touring before the album comes out?
Richie: … This was part of our master plan … whether it was a good idea or not, I guess we're going to find out.
Q from Fairfield County Weekly: … Since you've had hits in three different decades now, how do you adjust your production style through the years to always stay relevant and ahead of the curve?
David: We have a special magic cube that says how to produce stuff in every decade.
Richie: We ask the Ouija Board.
David: … No, you just listen to the radio, you see what's around you, and then you, we always have our own voice, we've had our own voice for many years and it's the next level for us …
Q from St. Louis Dispatch: Has there ever been a thing where you see a set list and you go, "Oh my God, not this song again?"
Richie: How many shows have we done together, something like 3,500? … Every once in a while there's a set list that comes up that may not work as well as the one from the night before, but it's not a stressful kind of situation really for us at this point.
Q from St. Louis Dispatch: How do you guys keep fans in their seats during the new songs, because that's obviously a point where a lot of people will run to the beer stand and the bathrooms and all that?
Richie: … It depends on their age … Some people gotta go more often than others. Can't blame 'em.
Q from The Record: For David … Do [people] look at you a little differently after your success on Broadway?
David: Yes, now they have to call me Mister.
Richie: Of course. Are you kidding me, man?
Tico: How many people get four Tonys? How many people get one Tony? How many people can get a play on Broadway, for that matter. Geez, man.
Q from Billboard: You guys are Rock 'n Roll Hall of Fame eligibles again, and I think you've even been on the long ballot … anybody think: "What the hell is Donna Summer doing going in and Bon Jovi's not?"
Tico: I don't know if it's political. There's a lot of great bands that didn't make it …
Richie: … I'd like to hope that we're in there before we're dead.
Q from GigCity: … In your titles throughout the years – "100 Million Bon Jovi Fans Can't Be Wrong," or "What About Now" or "Because We Can," it seems like they're all responses to somebody … who are you responding to?
[Dead silence]
Richie: I don't really know.
Q: Well, in "What about Now," it sounds like you're responding to a statement. In "Because We Can," it sounds like you're responding to somebody asking why …
Richie: Well, I can tell you, I mean, I specifically wasn't a part of writing that song, but I can tell you where I think it comes from.  If you're going to ever make a change and be optimistic about something, what about now? … That's what I read into it personally.
Different ways to read it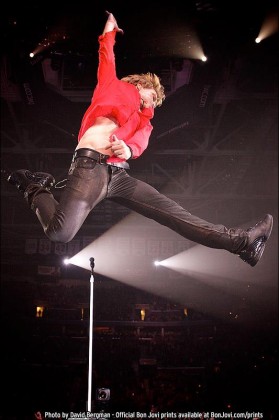 If you are a hardcore Bon Jovi fan, want to know more, are simply curious about what sort of stories a dozen different journalists came up with from the same interview, and have a lot of time to kill, here are the links to most of the other interviews. Compare and contrast!
Mark Brown, MSN: Bon Jovi's Big Twist (Feb. 7, 2013):
Melanie Hulick, MetroWNY: Bon Jovi Back on Tour (Feb. 14)
Megan Miller, County Times (Pennsylvania): Sandy and Other Side Projects Keep the Boys of Bon Jovi Busy (Feb. 17)
Steve McElwee, Centre Daily Times (Pennsylvania): Bon Jovi at 30: Band stays loyal to longtime fans (Feb. 22)
Amanda Gabeletto, Altoona Mirror: Bon Jovi Keeps On 'Getting Better' (Feb. 15)
Chuck Yarborough, The (Cleveland) Plain Dealer: Bon Jovi rolls into The Q Saturday on the first leg of long 'Because We Can Tour' (March 7)
Gary Graff, Billboard: Bon Jovi on New Tour, Album and Getting Into Rock Hall 'Before We're Dead' (Jan. 22)
Jane Stevenson, Sun Media: Bon Jovi rocking unconventionally (Feb. 15)
Kara Yorio, The Bergen Record (New Jersey): Bon Jovi talks about tour that starts Feb 9 at Mohegan Sun (Jan. 26)
Michael Sembos, Fairfield County Weekly (Connecticut): Bon Jovi Kicks Off a World Tour This Saturday at Mohegan Sun Arena (Feb. 5)
Valerie Lessard, Le Droit (Ottawa): Bon Jovi: audacieux… parce qu'on peut (Feb. 16)
Kevin Johnson, St. Louis Dispatch: Bon Jovi continues nonstop touring because it can (March 7)
Tris McCall, The (New Jersey) Record: Bon Jovi discusses new album and tour (Jan. 23)