Richie Sambora off Bon Jovi tour 'for a few months'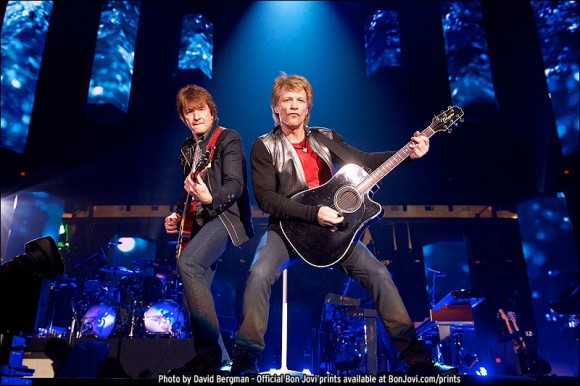 It's not like Bon Jovi won't be playing with Bon Jovi.
Bon Jovi has always been about Bon Jovi, and by several reports from the Calgary concert on Tuesday, Richie Sambora's absence was disappointing, but not a deal breaker. The 53-year-old guitarist has bowed out of all the dates on this leg of the Because We Can tour due to "personal reasons." No other information was given. Bon Jovi will perform as scheduled on Edmonton at Rexall Place on Wednesday night. There will be no ticket refunds. Filling in for Sambora is dependable New Jersey musician Bobby Bandiera, of Southside Johnny and the Asbury Jukes fame. Bandiera – who has done this for Bon Jovi before – states on his website that he won't be doing any of his own shows "for a few months."
Jon told the Calgary crowd on Tuesday night, "Hey Calgary, I need you more than ever tonight. If you haven't heard by now … I got the phone call at about 3:30 this afternoon. We had two choices: pack up and go home or come up here and give you everything we got. Richie isn't in jail or in the hospital or anything … but he won't be playing anytime soon."
Before the band took the stage, it announced a $100,000 donation to the Calgary Homeless Foundation. No word on plans for a similar gesture in Edmonton.
The Net flooded with fan comments after the news broke, most expressing sympathy and support for the longtime Bon Jovi axe-slinger, who cowrote a number of Bon Jovi hits over the years. Sambora bowed out of "The Circle" tour two years ago to enter his second stint in rehab; the first was in 2007.