Hollywood dreams on hold for Edmonton comic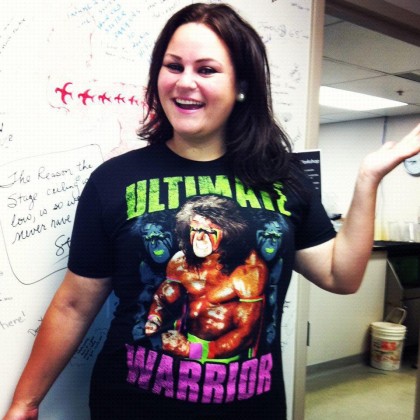 In order for Canadian comedians to get an immigration visa to work in Hollywood, they have to be established – and in order to get established, they have to work in Hollywood.
"That's the whole catch-22," says Edmonton comic Kathleen McGee, whose dreams of breaking into American show business are on hold after being denied entry into the U.S. in January for not having her papers in order. Innocent mistake. Before returning home for three weeks to perform in Edmonton because she was broke, she'd been doing unpaid comedy showcases in Los Angeles – which still constitutes work.
"Even if I don't get paid, if someone else is making money off me, that's illegal," she says. "No one ever told me that."
And just like that, after a long day at the Vancouver International Airport, the life of this promising comedian has been turned upside down. The complicated and expensive process to obtain the performer O-1 Visa must begin again. Meanwhile, McGee is back home in Edmonton staying with her mother, with a day job in a local bakery and performing nights wherever she can, building her credibility. She's at Yuk Yuk's this weekend opening for Cedric Newman, before heading off to the Winnipeg Comedy Festival next week.
There is of course an alternative to boarding the intercontinental comic brain train which has delivered such treasures as Jim Carrey and Mike Myers to the American people: Stay in Canada be funny in CANADIAN, maybe become the star of the next Corner Gas. Small issue here: McGee has been known to "work blue" from time to time, though she says she has cleaned up her act just enough for CBC, "which used to be scared of me." She's doing a CBC-TV spot when she's in Winnipeg, and also appears on an upcoming episode of The Debaters. One of McGee's new vibrator jokes (she says she has a number of them) seemed to test well with producers: "When you have a worn-out vibrator and it dies, some people would call that a product flaw; I just think it's more realistic …"
Why go to Hollywood at all?
The answer is simple: TV and movie people are always combing the comedy club farm system looking for the next bright talent, because the stars of half of all TV shows and movies are comedians. McGee was planning to take that track and already attracting serious interest. While Canada is a "great place to start," she says, competition is fierce because there's not enough gigs to go around. But there's a lot of "work" in LA comedy clubs, a lot of it unpaid, and so all the comics support one another to a degree not seen in other scenes, because "you never know which of your friends is going to get that break – and maybe they'll bring you along to help."
Who gets in and who stays out of America remains a mysterious and seemingly arbitrary process. Performer visa applicants must demonstrate "extraordinary ability or achievement" and submit letters of support from known references inside the American entertainment industry, along with an extensive CV for work in their own country: TV, awards, anything that will prove that they're established. The final decision is not made by a court, but by anonymous immigration officials.
"You can't talk to them. They don't interview you," McGee says. "You just sit with your fingers crossed and wait," and sometimes for a long time. After more than a year of wrangling, her visa application wound up being turned down. The good news is that she isn't banned from the US for being an illegal "worker." The  visa application process just has to start all over again, with a new lawyer, new references and new material that will hopefully impress the invisible gatekeepers of the American entertainment industry. The irony is that in being honest, in obeying the spirit of the law by not getting a day job in LA as so many Canadian artists illegally do, McGee has been put into limbo – back from whence she came. She is determined to try again.
"My ambition is so strong," she says. "I've done everything I can in Canada, and I know what's waiting for me down there and I'm going to do everything I can to get there."
More on Kathleen McGee: A Life Examined