Rock and Folk Festivals working for the same weekend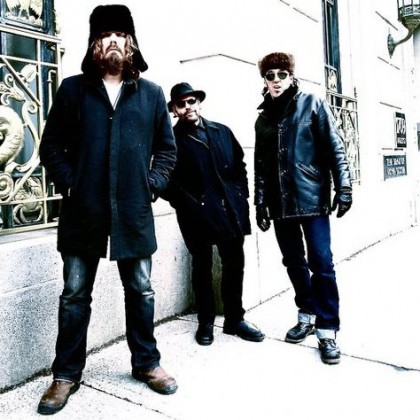 The stakes in the Great Edmonton Summer Festival Poker Game just went up. The table is getting crowded.
This year's Edmonton Rock Music Festival happens on the same weekend as the Edmonton Folk Music Festival – and everyone is crossing their fingers that the crossover between classic rock and folk music isn't too huge. The headliners announced for the third annual Hawrelak Park event Aug. 9 and 10 are Tom Cochrane and Red Rider, Loverboy, Kim Mitchell and – an act that's played the folk fest a number of times – Blackie and the Rodeo Kings (right). Tickets ($49 per night, $85 for both) are on sale now at Edrocks.ca.
Meanwhile, a few klicks down the valley at Gallagher Park for the folk fest Aug. 8-11 we will get Loreena McKennitt, Bruce Cockburn, Neko Case, Martin Sexton and Ruthie Foster, with much more to come. The full line-up will be announced at the end of May, with tickets going on sale June 1 and expected to sell out yet again, if history repeats itself.
Rockfest didn't have a choice, says producer Donna Semeniuk. The Women's LPGA at the Royal Mayfair Golf Course bumped the Bluesfest to Aug. 16-18, leaving Aug. 9-10 the only dates available for the Heritage Amphitheatre. The unthinkable alternative was not to do it at all.
"It's not a concern," Semeniuk says. "We think there's lots of space for diverse music in Edmonton. I do not think we're going to hurt the folk fest. And it's a little bit of a different demographic. Face it, Edmonton is a big city with lots of people. Best case scenario is to sell out both events."
That would be nice, but there's only going to be more festival overlap from here. It's crucial that festival producers give fans something they can't get anywhere else – and Edmonton should be big enough and its citizens summer-starved enough to accommodate almost anything.
Folk fest producer Terry Wickham agrees, "Each festival draws its own audience. The potential here is close to a million. All you can do is make the show as good as you can."
Though the folk fest has sold out for quite a few years in a row here, Wickham says they never take anything for granted. Years back, when the Big Valley Jamboree was on the same weekend, he says the folk fest attendance actually shrank by about 5% – so wow, there IS a crossover between hot country and cool folk – bouncing back thereafter with sell-outs almost every year since Norah Jones. Last year's Rockfest (featuring acts like Blue Oyster Cult, Trooper and April Wine) did surprisingly well considering the lack of media attention. It was the opening weekend of the Fringe festival. You just can't win.
As for the Blackie and the Rodeo Kings booking, consider them the "black sheep" of the Rockfest line-up.
"Blackie is all over the place, blues, folk, country, rock 'n' roll," says Semeniuk. "For people who haven't seen them before, I think they'll quickly become even stronger in this country after being exposed to a lot of rock fans."
For said classic rock fans who don't like to buy tickets online – "and there still seen to be a lot of them," Semeniuk says – physical tickets will be on sale at three different outlets by April 10: The Acoustic Music Shop, Myhre's Music and On the Rocks.