BOOKS: Big message in little sports story for kids
Posted on April 12, 2013 By Wayne Arthurson Entertainment, entertainment, Front Slider, Lit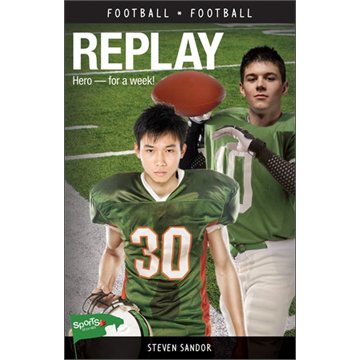 Steven Sandor's new novel Replay may seem like a nice little story about sports in small town Alberta – but there's something deeper going on here.
Aimed at readers grades 5-8, the story revolves around Warren Chen, a Chinese-Canadian kid living in Sexsmith, Alberta who dreams of joining the local Bantam football team. When he finally gets his chance to play, he comes within inches of scoring a touchdown in his first game. Taking his cue from the pros, he celebrates anyway, fooling the referee into awarding his team the six points – even though he never actually carried the football into the end zone. Warren spends the rest of the book wrestling with his conscience.
In a well-written and compelling story, Sandor quietly explores ideas on how important pro sports are to our world and how the win-at-all-costs attitude can have a negative effect on children.
"Warren decides to cheat in order to help his team win, and he has to live with that. He lives with the fear of being caught. He lives with the fear of being embarrassed," says Sandor, who is more well-known as the editor of Avenue Magazine. "And why does he cheat? Because he thinks it's OK based on what he sees on TV."
Sports are much more ruthless these days, says Sandor, a die-hard sports fan who has written about sports for a number of magazines, including "Zone," the Edmonton Oilers magazine, and is a colour commentator on Team 1260 radio.
Sports have become deeply political, deeply tribal, he says.
"It's all about: 'my hired guns representing my city-state are better than your hired guns.' And for some reason, this is deeply important to the mental well-being of my city, and it's so deeply important to you that it makes you mad enough to ruin your day when they lose," Sandor says. "With so much at stake, there's no shame in doing whatever it takes to win. And as the pressures grow, so does the pressure to cheat, as Warren does in the book. We're continually sending a message to kids that being pragmatic is more important than being honourable."
Heady stuff indeed, but unlike some kids' books, Sandor's unobtrusive writing style allows the reader to enjoy Warren's story without being hit on the head over and over again with the message. Replay also brings you into the world of small town Alberta football. Unlike places like Texas, football is not the biggest game in town. The need for players is so strong that anybody who comes to try out automatically gets in. Warren Chen is the smallest player on this team, but he's also the fastest.
As with Sandor's last novel for kids, Playing For Keeps, Replay also explores sports in Canada through the immigrant experience. The hero of the story spends a lot of time in his family's Chinese restaurant, pitching in, cleaning tables while watching CFL games on TV. Sandor, who was born in Brampton, Ontario, had no trouble understanding that side of the story.
"My wife's parents came to Canada from China. And they owned a Chinese restaurant in Grande Prairie before they retired," he explains. "I spent some time there before the restaurant was sold. My wife told me all about how everyone in the family pitched in and helped with the family business. I just took a lot from being in their old restaurant, how that was their home."
After four books all about sports, including the two adult non-fiction works (Battle of Alberta and the Illustrated Guide to Hockey Sites & History), Sandor says he isn't sure what's next. It might not be for kids. It might not even be about sports.
"I'd love to indulge my need to write something with no redeeming value, with lots of thrills and scary stuff," he says. "I'd love to have fun and serve up some literary fast food."